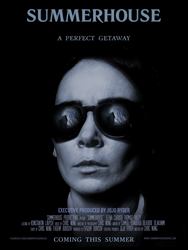 JoJo Ryder is the right creative producer for the job
Beverly Hills, CA (PRWEB) March 24, 2016
Summerhouse, a script that has gained much attention in Hollywood for its deep characters and twisted dual story is slated for casting and production.
Executive Producer Evgeny Borisov is in final negotiations with Creative Producer JoJo Ryder to help guide the project from casting through distribution.
Ryder has a proven track-record in television, broadcast and feature films and has just completed the successful production and international distribution of American Heist starring Adrien Brody.
The storyline of Summerhouse centers on a blind mystery writer and a group of teenage vacationers who both visit a vacation house at the same time for different reasons. The two stories intertwine in a complex and blood covered film.
"JoJo Ryder is the right creative producer for the job, with his great success of American Heist and with all the buzz going around of his upcoming film Girl Soldier starring Uma Thurman. I know Ryder is the one ".
Ryder's production company Untouchable J Productions is known for its work with important influencers like Akon and Ray J as well as key relationships that leverage consumer brand integration into his projects . Shaun Kowlessar will participate in the project as a producer as well.