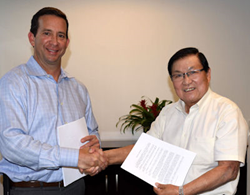 Los Angeles, California (PRWEB) March 22, 2016
InvoTech Systems Inc., announced continued expansion of its international reseller network with the addition of Capella RFID Management Systems, a division of Laundry Network Pte Ltd, based in Singapore. Capella will provide InvoTech solutions and certified professional system installation, training and support services in the Republic of Singapore, Malaysia, and Indonesia.
InvoTech Systems is the leading provider of advanced Linen Management, Uniform and Laundry Systems that integrate the latest RFID Technology to increase profitability for hotel and casino operators. InvoTech is recognized globally, in more than 30 countries, for implementing systems and solutions that provide extensive cost savings benefits. Click here for more information on InvoTech's RFID Linen, Uniform, and Laundry Systems.
InvoTech's international resellers provide local representation for InvoTech to customers and potential customers worldwide, and they also provide system installation, training, and support services in their territories. The resellers benefit InvoTech customers by providing the most cost effective systems and services for each global region.
InvoTech Expands with Reseller in Asia
Jeff Welles, InvoTech president said, "InvoTech is establishing resellers in Asia to provide local support to our existing customers, and to sell and service potential customers in the region. InvoTech selected Capella RFID Management Systems as our reseller to join forces with their professional team that already have extensive experience with laundry operations and RFID technology."
"We are very excited to work with InvoTech to strengthen our competitive position as the leading provider of RFID laundry solutions. I am confident that the partnership will be fruitful with many exciting opportunities in Asia and strong potential for growth. We are definitely looking forward to a long-term successful relationship ahead!", said TP Chan, CEO of Laundry Network.
InvoTech's international clients include Four Seasons Macau; Grand Venetian Macau Resort Hotel; MGM Grand Macau; Hyatt Shanghai, China; Burswood Entertainment Complex, Australia; Sheraton Seoul, Korea; Palace Resorts, Mexico; Resorts World Sentosa, Singapore; and Systematic Laundry, Singapore. North American clients include MGM Resorts International, Ritz Carlton, Hyatt Hotels, Marriott, Hilton Hotels, Loews Hotels, Mandarin Oriental, Universal Studios, Madison Square Garden, Empire State Building, and other leading companies.
About Capella RFID Management Systems
Capella RFID Management Systems is a division of Laundry Network Pte Ltd, which was incorporated in 1979. Capella has extensive experience related to laundry operations and expertise with RFID technology. Capella is the exclusive reseller for InvoTech products in Singapore, Malaysia, and Indonesia. Capella is certified by InvoTech to perform the system installations and to provide user training and technical support.
About InvoTech Systems
InvoTech Systems, Inc. increases profitability for clients. It is a leading provider of software management and control systems for uniforms and linens, and for laundry and security operations. Served markets include hospitality, healthcare, commercial laundry, and amusement industries worldwide. InvoTech products deliver vital information that establishes ultimate control and total accountability. InvoTech solutions are reliable and easy to use. They streamline operations and improve service levels with reduced labor and operating expenses. InvoTech provides 100% of its system support and product development in-house. The firm's trusted staff averages 10 years of reliable technical experience, knowledge of methodologies, and industry depth. InvoTech is a Microsoft Certified Partner that evolves technology-based solutions regularly based on client- and staff-driven innovations. The company is rooted in a culture that emphasizes long-term client relationships and superior customer service. For more information, please visit http://www.invotech.com.
CONTACTS:
InvoTech Systems, Inc.
Oswald Lares, Director of Sales
20951 Burbank Blvd. | Suite B
Woodland Hills, CA 91367
Phone: 818-574-7795
Email: Sales(at)invotech(dot)com
http://www.invotech.com