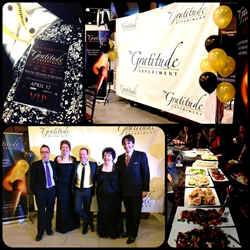 Participation in these movie moves you forward in your career faster than any other marketing strategy.
(PRWEB) April 04, 2016
Douglas Vermeeren, producer of the personal development films The Opus, The Gratitude Experiment and The Treasure Map is on the hunt for fresh talent and ideas to be included in 3 upcoming personal development movies.
"Over the next year or so, we will release three new personal development movies," states film producer Douglas Vermeeren. "And we are seeking for fresh faces with great content." This opportunity could be a dream come true for aspiring speakers or coaches as films of this nature generally open up incredible doors worldwide.
"As my first film came out (The Opus)," Vermeeren added, "We saw the participants gain more credibility in the market place, find more speaking events, be invited for book deals and media appearances and a raise in their personal speaking fees. We also saw many of our participants draw in new clients and sell out workshops and seminars. It's the power of media and being associated with a well made movie."
International exposure is certainly a reality as Vermeeren's first film, The Opus has now been translated into more than 23 languages worldwide and has also been adapted into a book published by Random House.
One of the great values that many of the participants have expressed thus far was the opportunity to appear alongside several leaders in the personal development industry. Douglas Vermeeren's previous films have featured such luminaries as: Bob Proctor, Jack Canfield, Mark Victor Hansen, John Demartini, Joe Vitale, Marci Shimoff, Bob Doyle, Marie Diamond, John Gray, Raymond Aaron, Loral Langemeier, Marshall Sylver, Randy Gage, Morris Goodman and others.
"It is interesting to see relationships and synergy develop between the new speakers and these top leaders," Vermeeren adds. "When new speakers have great content they often get invited to move up into the big leagues. It's been exciting to watch and be a part of these connections."
Douglas Vermeeren's current film, The Treasure Map is showing through out the world right now with upcoming screenings planned in London, UK; Vancouver, Edmonton and Calgary, Canada; Las Vegas, NV and Australia. Speakers and crew will be in attendance to speak at these events.
Some of these premieres have attracted as many as 5000 people.
This is an incredible opportunity for speakers and coaches who are serious about expanding their brand and reaching out to a new audience.
To qualify for consideration for this project, speakers and coaches are invited to contact Douglas Vermeeren through his website: http://www.HighProfitSpeaker.com. The process begins with a simple application. Those who qualify for the next step will be contacted for a personal interview and a discussion surrounding your uniqueness in content and as a speaker.