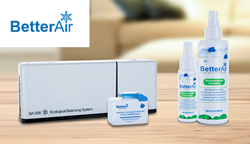 "The spring cleaning season is a great opportunity for families to learn that there is a way they can counteract the harmful bacteria in their homes all year round by simply introducing good bacteria into the environment."
San Diego, California (PRWEB) March 22, 2016
According to a study conducted by Trends in Ecology and Evolution, the average home contains more than 8,000 forms of bacteria. As we approach March 20, the first day of Spring season, many families are preparing for their annual "spring cleaning" rituals and will aim to remove all bacteria from their homes- harmful and beneficial alike. However, doing so creates an imbalanced environment leading to undesirable health related side effects.
To help families effectively and safely counteract the harmful bacteria living in furniture and on surfaces throughout their homes, BetterAir, the world's first probiotic air and surface purifier, has shared the top five reasons Environmental Probiotics should be incorporated into the traditional "spring cleaning" routine:
1. Although the word "bacteria" is often negatively associated with germs and illnesses, families should actually aim to preserve up to 98% of bacteria because it is actually good bacteria that we need in our lives. This is the reason probiotics are favorable over antibacterial sprays and conventional disinfectants.
2. Billions of bacteria thrive and proliferate exponentially faster in enclosed spaces. Introducing environmental probiotics into their environment will help to reduce the resources available to harmful bacteria that live on and within surfaces throughout the home.
3. In the US, 90% of our time is spent indoors where dust mites, allergens and other microbial pathogens, live, thrive and multiply on and inside many common objects such as mattresses, door handles, toys and other household surfaces. Probiotics will reduce the resources available to dangerous bacteria and will also infiltrate any hard-to-reach areas within the home, making a healthier environment for families.
4. Flu germs and viruses also love to lurk on desks, bathroom counters, kitchen sponges, sinks and toilets, making family members more susceptible during cold and flu season. Clean these hot spots regularly and use the BetterAir spray bottle for added protection.
5. Probiotics are safe. Natural environmental probiotics deny pathogens and allergens the resources to multiply while naturally replenishing indoor surroundings with the continuous release of probiotics.
Spearheaded by a Miami mother of three who was concerned about the sterile environment created by traditional air purification systems. The tabletop device plugs into the wall and releases a groundbreaking probiotic solution to effectively reduce harmful bacteria and promote environmental balance. It is also available as a probiotics spray bottle for busy individuals on-the-go.
"There are so many dangerous chemicals in household cleaning products that are harmful to the human body," said Taly Dery, CEO of BetterAir North America. "The spring cleaning season is a great opportunity for families to learn that there is a way they can counteract the harmful bacteria in their homes all year round by simply introducing good bacteria into the environment."
BetterAir's Environmental Probiotics are organically cultured strains of probiotics that deny pathogens and allergens the resources needed to thrive, ultimately protecting the spaces you can't touch or see. The product is available for purchase here and more information can be found at http://betterairus.com/.
BetterAir is a global company dedicated to creating healthier, more sustainable indoor spaces. BetterAir's patented 100% Natural Environmental Probiotics offer a range of products accommodating large-scale commercial buildings – to counteract the harmful effects of the Sick Building Syndrome, residential spaces and even portable sprays for on-the-go use. BetterAir's work with Environmental Probiotics is at the forefront of the indoor clean-tech movement, an effort to find systems that will restore the natural balance of our ecosystem in our homes, schools and offices.
Find out more at: http://www.betterairus.com.