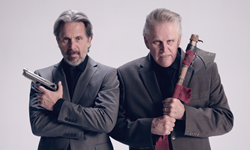 Los Angeles, CA (PRWEB) March 22, 2016
To kick off the highly-anticipated release of HITMAN™, Omelet – the LA-based creative agency – and Square Enix® have partnered to create and launch "Choose Your Hit," an interactive social campaign featuring Gary Busey and Gary Cole. Starting today, fans of the stealth video game can go to HITMAN's Facebook, Twitter and the official YouTube page to watch a series of political campaign-style videos in which each Gary will compete for the honor of being killed off through exclusive in-game content.
"The game is all about options and choice, so we wanted to bring that into the campaign by letting fans choose which Gary to kill. We love working with Square Enix, and the opportunity to use advertising as a way for fans to change the video game was unique and exciting," said Clemente Bornacelli, Omelet Creative Director.
"Agent 47® is the greatest contract killer in gaming, and he only goes after elite targets. So we put a fun twist on that premise by having these well-known pop culture figures competing for the honor of being killed by the best of the best," added Jimmy Barker, Omelet Senior Copywriter.
Following the game, the "Choose Your Hit" content will release episodically, with two new videos debuting each week over the course of three weeks total. During this time, fans will get to vote on their favorite Gary, and at the end players will get to kill off the winner through a special "elusive target" contract they'll have 48 hours to accept and accomplish.
"This is stupid. This whole press release is dumb. Go watch the videos. Vote for me," said Gary Cole, Emmy-nominated actor known for his iconic roles on VEEP, Office Space, and Pineapple Express.
"Who are you? Get out of my house!" said Gary Busey, Oscar-nominated actor known for his work on Lethal Weapon, Fear & Loathing in Las Vegas, and more.
In addition to "Choose Your Hit," Omelet and Square Enix also released "Kill This Ad" on March 11, an interactive pre-roll content series that gives viewers the opportunity to choose their own adventure. Depending on when they decide to "kill" or skip the ad, viewers will see the main character meet a different gruesome death. If viewed in its entirety, viewers will get to watch an entire 30-second story unfold.
"Hitman is one of our biggest franchises and when planning this launch, we knew we wanted to go big and needed a creative partner that really understood and loved the game as much as we do," explained Mike Silbowitz, Senior Director of Marketing at Square Enix. "Omelet's team did an incredible job of taking the game's story and creating a campaign that complemented it perfectly. We're very excited to see how the fans will react and can't wait to see how the future of our relationship unfolds."
Omelet's relationship with Square Enix began in 2010.
About Square Enix, Inc.:
Square Enix, Inc. develops, publishes, distributes and licenses SQUARE ENIX, EIDOS® and TAITO® branded entertainment content throughout the Americas as part of the Square Enix Group. The Square Enix group of companies operates a global network of leading development studios and boasts a valuable portfolio of intellectual property, including: FINAL FANTASY®, which has sold over 110 million units worldwide; DRAGON QUEST®, which has sold over 66 million units worldwide; TOMB RAIDER, which has sold over 45 million units worldwide; and the legendary SPACE INVADERS®. Square Enix, Inc. is a U.S.-based, wholly-owned subsidiary of Square Enix Holdings Co., Ltd.
More information on Square Enix, Inc. can be found at http://na.square-enix.com/.
About Omelet: 
Omelet is a creative company that solves complex marketing problems for progressive partners, including AT&T, HBO, Microsoft, Square Enix, and Walmart. The company also has divisions – including Omelet Studio and Omelet Brands – to create original brand programming and original owned intellectual property. 
http://www.omeletla.com