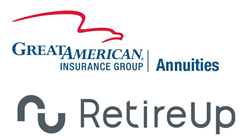 We are dedicated to providing a personalized approach with purposeful conversations. RetireUp helps us achieve this.
Chicago, IL (PRWEB) March 22, 2016
RetireUp is proud to announce that it will be integrating Great American Life Insurance Company's American Legend III fixed-indexed annuity with the optional IncomeSecure rider into its dynamic retirement income visualization software. With RetireUp's unique technology, advisors can meaningfully show clients how Great American Life's American Legend III fixed-indexed annuity will enhance their portfolios and lifestyle.
"With static tables, it's a challenge for advisors to show clients the real power of the American Legend III with IncomeSecure and the impact of risks. RetireUp takes crucial information and translates it into an easy-to-understand, visual story that connects clients with the products that will take them where they want to be," remarked Joe Maringer, Great American Life Divisional Vice President and National Sales Manager. "We are dedicated to providing a personalized approach with purposeful conversations. RetireUp helps us achieve this."
Connecting Clients with Options Made Easy
RetireUp hit the market in 2014 with a mission: change the way conversations around retirement income unfold. The software answers clients' pressing "Will I be prepared? Will there be enough?" questions with the visual story of how their assets and income may be affected by risk factors such as inflation, health care, market fluctuations or premature death. With this visual story, advisors can seamlessly demonstrate the full impact their products may have on clients' futures.
As it takes just minutes to generate a visual guide to retirement income planning, conversations using RetireUp happen during live meetings with clients. What-if scenarios are easily worked through and solutions can be quickly identified. RetireUp's visuals lead to greater comprehension of how products can enhance and protect portfolios, transforming clients' decision-making in a way that static tables can't.
"Our software is designed to demonstrate the true value of fixed-indexed annuities. RetireUp is a tool that really connects clients with options that work for them while boosting sales for our companies," said RetireUp CEO Dan Santner. "We are proud to announce that advisors can use RetireUp with Great American Life's fixed-indexed annuities to raise the bar around retirement income planning."
ABOUT RETIREUP
RetireUp is the premier retirement planning software tool preferred by leading financial professionals to easily Tell the Retirement Income Story©. With a dynamic user interface and stunning graphics, RetireUp models unlimited what-if scenarios with speed and clarity. The intuitive web-based tool makes it simple for the client to understand retirement distributions from specific financial products, leading to confident decision-making and higher sales from the very first consultation. RetireUp works with enterprises, registered representatives, independent financial advisors, and RIA's, providing unlimited coaching and support for a flat subscription fee. For more information, go to https://www.retireup.com/ or contact Michael Roth, Michael@retireup.com.
ABOUT GREAT AMERICAN INSURANCE GROUP
The annuity operations of Great American Insurance Group (GAIG) offer retirement solutions through the sale of traditional fixed and fixed-indexed annuities in the retail, financial institution and education markets underwritten by Great American Life Insurance Company® and Annuity Investors Life Insurance Company®. GAIG's roots go back to 1872 with the founding of its flagship company, Great American Insurance Company. The members of GAIG are subsidiaries of American Financial Group, Inc. (AFG). AFG's common stock is listed and traded on the New York Stock Exchange under the symbol AFG. Learn more at http://www.GAIGannuities.com.
Media inquiries:
RetireUp, Inc.
Contact name: Michael Roth
Phone: 847.984.3218
Email: Michael(at)retireup(dot)com
Great American Insurance Group
Contact name: Donna Carrelli
Phone: 513.412.1518
Email: dcarrelli(at)gaig(dot)com