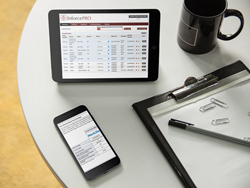 Austin, TX (PRWEB) March 23, 2016
InforcePRO®, the only in-force life insurance solution, today announced Gary Epple's appointment as Vice President, Engineering. A key engineering leader for some of the world's biggest and most innovative software companies, Mr. Epple moves over from The Advisory Board Company to join InforcePRO's senior executive team.
Gary has more than 25 years of executive experience developing software at large corporations and smaller, fast-growing organizations. He is charged with leading and growing a team of talented engineers as the company looks to strengthen InforcePRO's position within the life insurance industry in North America and overseas.
Prior to The Advisory Board Company, Gary spent four year as Chief Development Officer at Paymetric, where he built and lead the design of a financial transaction processing platform and the infrastructure for SAP-originated payments.
His experience in addressing the demanding database requirements of high volume transactions and supporting real time data feeds will help InforcePRO continue to provide the highest quality solutions and services for the life insurance industry.
"InforcePRO's innovations to date are premised on the best engineering team in the industry today. Our innovations tomorrow will be based on continuing to hire the best people" said Cameron Jacox, Cofounder, InforcePro. "Gary Epple is one of the pre-eminent engineering leaders in the United States today. His background, including being the author of three patents, includes being Chief Development Officer at Paymetric, a venture-backed Electronic Payment Ecosystem, and most recently as Managing Director of Development at The Advisory Board, a $1.3 billion public healthcare data analytics firm. In addition to providing immediate leadership for InforcePRO's entire development organization, Gary brings experience in rapid-growth technology companies like ours."
"I'm thrilled to be joining such a talented and passionate group of individuals in bringing to market best of breed solutions for the Life Insurance market" said Gary Epple. "The team to date has done a tremendous job in getting valuable products to a growing base of customers and I look forward to being part of future successes as the company and team scale to meet growing demand."
InforcePRO Cofounder, Karan Kanodia shared his enthusiasm at the appointment saying, "as InforcePRO expands its Fortune 500 footprint, enters new international markets and continues to build innovative policyholder engagement products, Gary's 25+ years of technical leadership will prove critical to the success of these and future initiatives."
About InforcePRO®
InforcePRO is the fastest growing software provider to the life insurance industry and has built an innovative web-based, policy-monitoring platform that delivers increased revenue and enhanced protection from liability on orphan, as well as active books of life insurance business for Carriers and Distributors – and all while dramatically improving policyholder service to put Policyholders First™