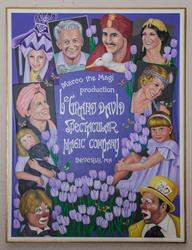 Beverly, Massachusetts (PRWEB) March 27, 2016
Kaminski Auctions is pleased to present at auction Part Two of Le Grand David and his own Spectacular Magic Company' s collection of props, original artwork, paintings, memorabilia and magic illusions. The unique and intriguing contents of the Larcom Theatre and a number of pieces from the company's performances at the Cabot Street Cinema Theatre will be of interest for local fans, magic collectors and illusionists alike.
The first auction held on February 23, 2014 was a huge success as magicians, collectors and fans of Marco the Magi's Production of Le Grand David and his Own Spectacular Magic Company filled the Cabot Street Cinema Theatre to bid and own a piece of magic history. Magic followers from all over the world registered for the auction, including locations as far away as Malaysia, Finland, and Argentina.
This resident company of magical performers amazed and entertained audiences of all ages with its two renowned stage magic extravaganzas, performed for over 35 consecutive years. Each performance sparkled with classic illusions of stage magic, dozens of elaborate backdrops and curtains, hundreds of stunning costumes, beautiful choreography, and lovely classical music, all blended into a splendidly colorful, enchanting and uplifting production.
The Le Grand David troupe was featured in publications such as TIME, Smithsonian, and Yankee magazines, and prominently listed in regional and national travel guides. In addition, the company performed seven times at The White House in Washington, D.C.
As with the previous Le Grand David auction held in February 2014, on April 10, 2016, magicians, collectors and the public will have the opportunity to bid on original works of art, magical illusions, costumes, collections of books and programs, hand-painted Larcom Theatre backdrops, and handsome theatre furnishings.
Top lots include a one-of-a-kind "Tip Over Trunk" performed with the "DeKolta" Chair illusion as the breathtaking conclusion of the Larcom show, exquisitely painted with geisha scenes on the sides, lid, front and back; the unique, hand-crafted Larcom table with two botanias used in Marco's front curtain routine; the Sword Box, another one-of-a-kind illusions created in the company's workshops; and several Rick Heath hand-painted backdrops and original artwork posters.
All lots may be previewed prior to the auction at the Larcom Theatre, 13 Wallis Street, Beverly, Massachusetts, Thursday – Saturday, April 7-9, 2016, from 9:00 a.m. through 5:00 p.m., and on Sunday, April 10, the day of sale, beginning at 8:00 a.m.
The auction will take place at the Kaminski Auctions Gallery, 117 Elliott Street, Beverly, MA 01915, on Sunday, April 10, 2016 beginning at 10:00 a.m. All lots will be sold from the screens.
For more information and to sign up to bid with KaminskiLIVE online, go to http://www.kaminskiauctions.com or call 978-927-2223. Internet, Telephone, Absentee and In Person bidding are all available for this special auction.