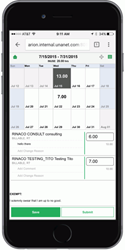 The design of the Unanet mobile time capability provides our customers with powerful business management features they need in the most convenient and usable format
Dulles, Virginia (PRWEB) March 22, 2016
Unanet, a developer of project ERP software that helps project-driven organizations manage projects, people and financials in one integrated system, has announced the availability of a web-based timesheet, optimized for smartphones.
This mobile-enhanced timesheet is designed to optimize the user experience of performing what can be a complex activity; entering and submitting hours worked on multiple projects and tasks. This activity can be further complicated dependent on whether they need to enter additional information such as pay codes, labor categories, project types, location of work performed, or comments. The need to provide a view of whole time periods, whether weekly, semi-monthly or monthly presents further challenges in delivering an optimized user experience on a mobile device. Unanet's configurable timesheet capabilities available on either desktop, or mobile-sized screens addresses these requirements.
By delivering the mobile experience in a browser, rather than as an app, users are not required to download or keep up to date with the latest version of an app. Furthermore, no additional configuration is required to connect through company firewalls to gain access. Users are able to simply bookmark the website and enter their time anywhere they have internet access. This capability is particularly important for situations where daily time entry is required and users do not have access to a desktop computer.
The user experience is further enhanced by the availability of 'speech-to-text' capability for entering comments on hours entered.
Any business rules and validations a company utilizes in Unanet to ensure data is correct at the point of entry are automatically enforced on mobile devices without additional configuration. Whether users are entering their time on their mobile device, on their desktop, or tablet, all information will be immediately visible in the system via Unanet's comprehensive real-time reporting.
"In designing an optimized user experience for mobile devices, Unanet looked carefully at whether the best capabilities would be delivered via web or an app," commented Richard Hayden, Unanet's Senior Vice President of Product Management and Marketing. "The design of the Unanet mobile time capability provides customers with powerful business management features they need in the most convenient and usable format."
About Unanet
Unanet is a leading provider of Cloud and On-Premise software for project-based organizations. Unanet delivers a purpose-built Project ERP solution with skills management, resource planning, budgeting & forecasting, time & expense reporting, billing and revenue recognition, project management analytics and dashboards, and integrated financials with AR, AP, GL and cost pool calculations. Over 1,000 organizations rely on Unanet to maximize staff utilization, reduce administrative costs by 90%, improve invoicing by 10X, and support forward decision-making for improved operations.