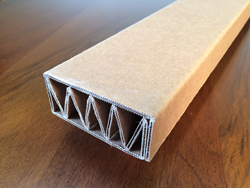 Lorain, OH (PRWEB) March 24, 2016
There's many good reasons for builders and DIY enthusiasts to look for alternatives for wood to use in their work, ranging from environmental concerns, to budgeting or aesthetics. The quality of these products, until now, has varied greatly in the eyes of most experts. Stepping up to offer a very impressive resource in this area is Cardboard Lumber™ brand Alta™ Board. The brand's Cardboard Lumber® is a true alternative to wood, where one piece of recycled cardboard is folded and laminated in the shape of a 2"x4", providing an incredible amount of strength and performance at a 1/3 of the weight of wood and at a very attractive price point.
"We are both very proud and very confident in how well our Cardboard Lumber performs and to the levels it can be depended on," commented a spokesperson from the company. "The possibilities are endless with this product and we aren't exaggerating to say almost anything can be built with it. We would encourage builders to explore the Cardboard Lumber and watch it exceed their expectations."
According to Alta Board, some of the more common uses of their Cardboard Lumber have included: building cardboard tables; cardboard crates; cardboard pet houses; chairs; displays; and much more.
Feedback from customers has been very positive.
Chris C., from Boston, recently said in a five star review, "I'm truly impressed with Cardboard Lumber from Alta Board. I picked some up to use to build our backyard furniture and everything came out brilliant. I didn't think it was possible, but now I'm a believer. Fully recommended."
For more information be sure to visit http://cardboardlumber.com