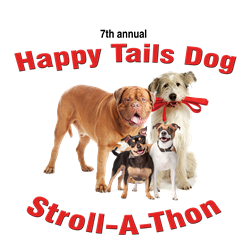 Grab your leashes for a day of FUNdraising for homeless animals!
Titusville, Florida (PRWEB) March 22, 2016
Spring has sprung and it's time to step into gear and walk to help Brevard's homeless pets at the SPCA of Brevard's seventh annual Happy Tails Dog Stroll-A-Thon on Saturday, April 2 at Sand Point Park in Titusville. Participants can register online at http://www.spcabrevard.com and click on the events tab or stop by the SPCA Adoption Center at 6035 Sisson Road to pick up registration information.
The Stroll-A-Thon, which still has openings for sponsors, will benefit the SPCA's continued commitment to protect and provide a voice to the homeless animals in Brevard. The SPCA found homes for nearly 2,300 animals last year; many of which were animals saved from other shelters and would not have made it out alive without the SPCA's intervention. Event registration is free; there will be premiums for individual participants based on levels achieved and pack (team) participation is encouraged with a competition for the "Pack of the Year" title.
Registration and check-in starts at 9 am and the Stroll-A-Thon begins at 10 am. Vaccinated, socialized dogs on 6-foot or shorter leashes are welcome to this fun-for-the-family event! This year's Stroll Grand Marshall will be Sheriff Wayne Ivey. The leisurely stroll around Sand Point Park includes optional points such as a "show us your trick" station where your canine companion can show off his coolest trick to receive a treat and water stations, too. After the Stroll, stop by the Vendor Village where you will find food, merchandise, rescues with adoptable pets and a Kissing Booth to receive a smooch from an adoptable pooch. This year's event will also feature an adoptable dog fashion show and a dog trick/talent contest. The SPCA Clinic will also provide low-cost mobile vaccines at the event for the very first time! Back by popular demand...the Doggie Fun Zone, the amazing, thrilling and entertaining fun and run multi-dimensional lure-motivated obstacle course!
For more information, contact Susan Naylor at 321-567-3615 extension 248 or visit http://www.spcabrevard.com and click on the events tab.
Additional Resources
Event website: https://secure.qgiv.com/event/826453/
###
About SPCA of Brevard
The SPCA of Brevard is a private, non-profit organization with the mission of "protecting and providing a voice to the homeless animals of Brevard County." It receives no funding from the government and relies on private donations to be able to serve the community. It operates thrift stores in Titusville and Merritt Island, which are stocked solely with donations for resale to help fund adoption center locations.
Founded in 1979 in Titusville, Florida, the SPCA is the largest private no-kill animal rescue group in Brevard, will find homes for more than 2200 animals this year. It is the first adoption facility with free-roaming cat rooms in the County, allowing adopters to interact with the cats in a more home-like setting. Its new Adoption Center in Titusville is over 11,000 square feet and sits on nearly three acres. Additionally, it operates two satellite Cat Adoption Centers in the Melbourne and Merritt Square Malls, which have contributed to a 241% increase in adult cat adoptions. Additional adoption statistics can be found here. The SPCA of Brevard Clinic also provides reduced-price vaccines to the public and has performed more than 55,000 low-cost spay/neuter surgeries since 1999.
For more information, visit http://www.spcabrevard.com.