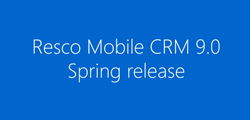 (PRWEB) March 23, 2016
Today, Resco released the Spring Update of Resco Mobile CRM®, a mobile client for Microsoft Dynamics CRM, Oracle Siebel CRM, and other back-end systems.
In line with the company's recently announced strategy to unite all of its technology into one solution, the product sees a variety of enhancements, tackling everything from its mobile applications to the desktop client and the server back end.
On the mobility end, Resco shows its strength in offline and introduces offline-generated reports that allow the users to create PDF reports based off of the CRM data while being disconnected in the field. Combined with other new features that allows users to work with more records at a time, these reports can combine multiple records into one PDF, e.g. report of completed service activities for the day.
"With this version, you can be more effective by executing commands for multiple records in list. You will also be more productive because synchronization is now completely non-blocking. And you are even more flexible with Offline Reports." Miro Pomsar, CTO at Resco, summarized the new update.
Companies can from this day forward also utilize a new addition to the route planner: ability to plan for other users. This will allow dispatch to plan the route, let say, for its service technicians from the office via the Resco Mobile CRM desktop application.
Resco's own CRM server that can be used as a standalone CRM solution or as a connector to other CRM and ERP systems, is now enriched with workflows that allow companies to automate their processes and OData support that opens up a myriad of connection possibilities.
Some of the new additions to Resco Mobile CRM:

Offline-generated reports
Plan route for multiple users
Multi-selection of records
Support of Email Templates
Support for new MS Dynamics CRM time formats
Search by using barcode scan
Save progress during background sync
Export selected/all records
New actions for List Buttons
Aggregate calculations (Average, Max. Min, Count, Sum)
Show field options as Images
Search for Contacts in System Search
All of the new additions that come with the Resco Mobile CRM Spring Release are available for free to all existing customers and partners.
For more info on this and other updates, visit http://www.resco.net/company/news.aspx