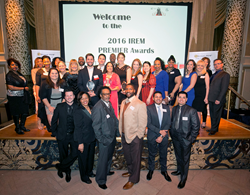 We are delighted with with this recognition and congratulate Sam, Shruti and Colleen and our entire DK Living Team's role in these significant honors
CHICAGO, ILL (PRWEB) March 23, 2016
Draper and Kramer announced today that the Institute of Real Estate Management (IREM) recently recognized DK Living and its employees Sam Groppi, Colleen Needham and Shruti Kumar at its 2016 awards ceremony.
IREM's Premier Awards were created to recognize people, organizations and companies for excellence in areas that include innovation and technology, energy conservation, community involvement and leadership, property management, vendor services and embodying the core principles of the ARM® and CPM® credentials.
Sam Groppi was recognized as ARM of the Year. As operations manager at Wheaton Center Apartments in Wheaton, Illinois, Groppi oversees the project's $40 million renovation, keeps his team motivated and was instrumental in decreasing the delinquencies and unit turnover times. He is involved with the Wheaton Chamber of Commerce, plays on a soccer league that benefits St. Jude, served as the chapter ARM representative and has begun taking his CPM classes.
Shruti Kumar was recognized as CPM of the Year. Shruti is the senior property manager for Lake Meadows a 9-building, 1869-unit property - the second largest apartment community in Chicago. With 57 employees, she believes in education, coaching and guidance to empower her employees. In 2015, she was instrumental in facilitating the creation of 85 "hand-made-with-love" blankets to benefit the less fortunate. Shruti volunteers with the council promoting the education initiatives and member outreach for the chapter.
Colleen Needham earned IREM's coveted Leadership Award. As Property Manager at 180 N. Jefferson, Colleen's positive energy and ability to teach others demonstrates her great leadership skills. She's involved in the March of Dimes, Toys for Tots, Chicago Food Pantry, Mercy Home for Boys and Girls, and the IREM Charity Breakthrough.
"We are delighted with with this recognition and congratulate Sam, Shruti and Colleen and our entire DK Living Team's role in these significant honors," said Forrest Bailey, president and CEO of Draper and Kramer. "We are quite proud of the relationships we have forged since our founding in 1893 and the positive impact we produce with our colleagues in the industry."
###
About Draper and Kramer
Draper and Kramer, Incorporated is a vertically integrated property and financial services company led by President and Chief Executive Officer, Forrest D. Bailey, and headquartered in Chicago, Illinois. Primary services offered include management of multi-family residential, both rental and condominium, and commercial properties including, office, industrial and retail property types, arranging debt and equity financing for commercial property, residential mortgage banking dba 1st Advantage Mortgage, acquisitions and development. Draper and Kramer provides a single source of real estate-related counsel to a diverse group of investors in real estate across the U.S: corporations, private and institutional owners and users of real estate government agencies, condominium associations and foundations. For more information, visit http://www.draperandkramer.com.