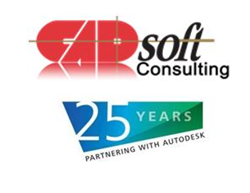 Tempe, AZ (PRWEB) March 23, 2016
CADsoft Consulting Inc., a proven leader in the implementation of design, transportation, and construction technologies, is excited to announce its participation this week in Tucson, Arizona, at The Arizona Conference on Roads & Streets being held March 23rd through 25th at the Westin La Paloma Resort & Spa. This annual event is the largest gathering of Arizona engineers and contractors from the public and private sectors. As an exhibitor and longtime Sustaining member of Arizona Consulting Engineers Council, CADsoft is committed to helping professionals within the industry harness the full power of design solutions with the latest technology
and a collaborative process.
CADsoft will be presenting in booths 47 & 48 and will be on hand to present solutions on Autodesk infrastructure solutions, demonstrations using drone technology and scanning solutions from Topcon. CADsoft Consulting will also be celebrating their 25 years as an Autodesk Partner during the Wednesday evening reception.
For additional information about the Roads & Streets conference, please visit their website.
About CADsoft Consulting
CADsoft Consulting, an Autodesk Gold Partner and BIM360 Advisor Partner, was founded over 25 years ago for the main purpose of assisting architecture, engineering, and construction organizations to maximize the value and adoption of advanced technologies so they can realize peak efficiencies and perform competitively in their industries. http://www.cadsoft-consult.com
Autodesk and BIM 360 are registered trademarks of Autodesk, Inc., and/or its subsidiaries and/or affiliates in the USA and/or other countries.