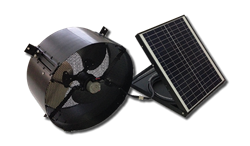 Making homes green and healthy
Portland, OR (PRWEB) March 23, 2016
Sol Solutions Today, a solar home performance company headquartered in San Diego, California, announced it has experienced phenomenally quick growth in the Northwest region, and are responding with staffing and territory expansion. The firm, dedicated to providing healthy and protected air quality for its clients' homes, has reported surpassing $1 million in sales in less than six months, in the Washington and Oregon region. In response, staffing has increased by 100-percent as the company prepares to launch operations in Idaho.
"We offer affordable products that improve home performance and make homes healthier to live in," shares Jamie Skaar, VP of Business Development for Sol Solutions Today. "The vision is the same for 2016– we teach our customers about how their home is performing. We save homeowners thousands of dollars in unnecessary maintenance and utility bills, while also improving home health. Ultimately, we want our customers to be energy independent. Our relentless dedication to improving home performance has connected with our customers. That has been the key to our success. We are thrilled to watch Sol Solutions Today emerge as a leader in 'solar home performance'."
76% of Americans want solar to be our main source of energy provision. Decreasing unit costs and incentives – coupled with dramatically increasing utility prices – It's an easy decision for homeowners to leverage incentives and invest in their homes with solar energy. There has never been a better time. With the support of government programs, customers have access to incentives as well as zero fee payment options. With low interest rates providing limited returns to savings accounts, many homeowners believe now is the time to invest in their homes.
"States and cities are backing this movement by giving money back to those interested in making energy-efficient improvements," adds Michael G. Keating, Sol Solutions Today's Director of Operations. "By making homes efficient, people are selling their homes faster and for more money, while immediately lowering their maintenance liabilities and utility bills. Socially, climate awareness is growing and Americans are concerned with direct impact to local communities. Many regions on the West coast and in the Northwest are experiencing drought and abnormally high temperatures. These home improvements are win for us all right now and for our future."
Sol Solutions Today uses award-winning products that provide its customers peace of mind and offer solutions that make their homes greener and healthier.
About Sol Solutions Today
Sol Solutions Today is a solar home performance company dedicated to improving home health, lowering utility bills and maintenance expenses for customers. The company strives to improve home efficiency with new cost-effective technologies, reduce water usage by removing grass and installing green lawns, installing solar as well as improving airflow and home health.
Sol Solutions Today is located at 101 Market Street Suite 308 in San Diego, and can be reached by calling (844) 634-0944. For more information visit http://www.SolSolutionsToday.com.
--END--
For more information and to receive a Media Pack containing various high-res images for publication, please contact below.