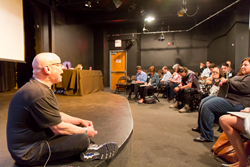 "We bring world renowned experts to Duluth – the kind of brilliance that people spend thousands of dollars to absorb at conferences around the world." - Marty Weintraub, Aimclear Founder
DULUTH, Minn. (PRWEB) March 22, 2016
More than 20 of the best minds in digital marketing, social media and public relations are coming to Duluth for the annual Zenith Conference on April 28. This one-day event will connect marketers with leading experts who will share the latest strategies, tactics and tools companies need to market effectively, grow their business online and avoid wasteful online investments.
Zenith is a true private business/civic partnership between the Duluth Chamber of Commerce and Aimclear. Gross proceeds are donated to FUSE, the Duluth Chamber's organization devoted to keeping college grads in Duluth. Aimclear contributes the agenda, invites speakers and strives to be inclusive of regional marketers, Twin Cities visitors' local agencies, businesses and marketers from a wide range of businesses and organizations.
"Zenith is an amazing opportunity for marketing professionals and students to learn from the industry's smartest people," said Marty Weintraub, Aimclear founder and evangelist. "We bring world renowned experts to Duluth – the kind of brilliance that people spend thousands of dollars to absorb at conferences around the world. The industry's brightest leaders will help marketers integrate digital channels for powerful marketing/PR programs."
Keynote speakers include MobileMoxie CEO and Founder Cindy Krum, and Fanatics, Inc., VP of growth and SEO Dennis Goedegebuure. Krum is a leading author and renowned expert in search engine optimization (SEO) and mobile marketing. Goedegebuure oversees social content creation, content amplification and SEO for the Fanatics network of partner sites. Fanatics is a top 50 Internet retailer and market leader for officially licensed sports merchandise.
Among other notable speakers, Zenith will feature Microsoft Senior Bing Ads Client Development and Training Manager Purna Virji, Dell Senior Manager of Digital Marketing Jamie Berger, Clix Marketing Managing Partner John Lee, Avalaunch Media President Matt Siltala, and many others. Several experts from Aimclear will also lead sessions, including Weintraub, who is a leading speaker and presenter on the global marketing circuit.
The conference will be held at the historic Greysolon Ballroom in downtown Duluth. Registration begins at 7:30 am, and the event formally opens with Krum's morning keynote beginning at 8:30. The conference concludes at 4:30pm following Goedegebuure closing keynote. Attendees are all invited to a networking event and celebration from 4:30-6 pm.
Conference attendees who register by March 24 will save $75 on conference fees with special pricing of $199 for a full conference pass. College students with a valid student ID can attend for $99.
More information and registration details can be found at http://www.zenithconference.com.
About Aimclear
Aimclear is a 4x Inc.500/5000 marketing agency dominant in audience targeting and customer acquisition. We build, track, and convert laser-focused audience segments, seeing targets through to conversion via omni-platform cookie pools, segmented by audiences. The agency drives web traffic and tracks merged social psychographic/search personas. Because Aimclear also distributes to influencers for buzz, links, and earned-media, the agency has evolved to be the missing link unifying search, social, PR and psychographic display. Visit http://www.aimclear.com for more information.
About the Duluth Area Chamber of Commerce
The Duluth Area Chamber of Commerce serves as the premier advocate for commerce and industry by facilitating interaction among business, government, education, labor, and the greater community by actively creating innovative opportunities for business to advance within local and global economies.
###