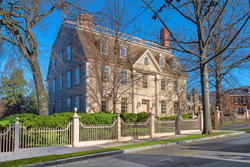 Pompano Beach, FL (PRWEB) March 23, 2016
According to the real estate website TopTenRealEstateDeals.com, Washington, D.C.'s oldest home was actually built in Massachusetts in 1754, and is now for sale.
"Washington's Oldest Home"
One of the District of Columbia's most interesting homes also happens to be its oldest structure, dating back to 1754. What makes it even more unusual is that it was dismantled and shipped to D.C. by rail in six boxcars from Massachusetts.
By the early 1930s, Washington lawyer George Morris and his wife Miriam had accumulated a vast and important collection of Colonial antiques. They felt it only fitting that the historical collection be displayed in a home from the same era. After an extensive search, they could find nothing in Washington, D.C. or the surrounding area old enough or stately enough to fill their needs. Unwilling to settle, they expanded their search covering the Upper East Coast through the historic areas and finally came across exactly what they were looking for in Danvers, Massachusetts. Still in its original form with only its library paneling having been placed in a museum, the bones of the house were good with the original wide floorboards, large rooms, impressive Hancock staircase with carved balustrade, and even a secret passage leading to a ballroom on the lower level.
The couple purchased the house in 1934 and had it painstakingly dismantled and shipped back to Washington by rail. They hired Walter Macomber, resident architect for the 1930's Colonial Williamsburg reconstruction, to oversee the rebuild in the upscale Washington Kalorama neighborhood. It was important to the Morrises that the home had all the modern conveniences completely hidden from view. This meant expanding the size by five feet in order to install plumbing and repurposing former closets to bathrooms. Not so much as a radio was on view. Macomber also reinforced the structure with hidden steel beams. The entire project took three years to complete.
At her housewarming party, Miriam Morris welcomed Washington's finest in period hoop skirt and dressed the hostesses and servers in period attire. Food was derived from early American recipes and an authentic stage was set for their guests. For the next forty-five years, Miriam repeated the event many times hosting over 50,000 guests including ambassadors and first ladies. When Miriam died in 1982, their huge antique collection was auctioned by Christie's with proceeds amounting to $2.3 million.
Known as the Lindens after the numerous linden trees on the original Massachusetts property, the 8,820-square-foot home is sited on a half acre of mature gardens with the grand formal rooms of the era, six bedroom suites and an additional three baths. Its scenic wall coverings were printed in France and an exact reproduction of the original library paneling was installed. The home has two kitchens, a three-car garage, eleven fireplaces and what was originally the ballroom behind the secret passage now houses a movie theater, spa, and tavern room.
Originally listed at $10.5 million, the Lindens has recently undergone a price reduction to $8.75 million. The listing agents are William F. X. Moody, Robert Hryniewicki, Adam T. Rackliffe, and Christopher R. Leary of Washington Fine Properties.
Visit TopTenRealEstateDeals.com for more famous homes and real estate news.