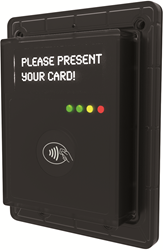 Duluth, Georgia (PRWEB) March 28, 2016
FEIG Electronics will demonstrate the cVEND secure payment solution at the Smart Card Alliance conference and trade show, in partnership with Cardtek, a leading software developer for financial transactions and provider of EMV migration solutions.
FEIG's cVEND contactless payment terminals incorporate the Cardtek EMV Level 2 Kernel (L2K), providing certified EMV-related payment and security functionality on cVEND plug-in modules and standalone card readers.
Together, cVEND payment devices and the Cardtek L2K are tightly integrated to meet the security needs for the variety of payment options required in the transportation industry. The resulting functionality delivers improved flexibility, interoperability, less fraud, accurate revenue accountability and greater convenience for mass transit passengers.
To learn more, be sure to visit the Cardtek booth #312 at Payments Summit, April 4-7 in Orlando.
The Payments Summit is the premier industry event covering all things payments, including FinTech, EMV chip technology, mobile wallets, NFC, contactless, open transit systems and more.
About FEIG ELECTRONICS, Inc.
FEIG Electronics, a leading global supplier of RFID readers and antennas, is one of the few suppliers worldwide offering RFID readers and antennas for all standard operating frequencies: LF (125 kHz), HF (13.56 MHz), UHF (860-960 MHz). A trusted pioneer in RFID with more than 40 years' industry experience, FEIG delivers unrivalled data collection, authentication and identification solutions, as well as secure contactless payment systems with its OBID® RFID products. FEIG readers, available for plug-in, desktop and handheld applications, support next-generation contactless credit cards, debit cards, smartcards and NFC applications to enable fast, accurate, reliable and secure authentication and payment transactions.