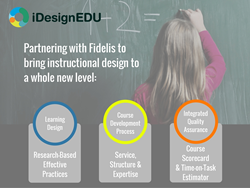 By tailoring a student's online education to their real-life purpose, you've increased that student's engagement twofold.
Mountain View, CA (PRWEB) March 23, 2016
Fidelis Education has enlisted instructional design firm iDesignEDU to enhance its Learning Relationship Management offering. Tapping into iDesignEDU's expertise in online course design and faculty support, Fidelis customers and their educators can deliver a more personalized and rich learning experience.
With this new partnership, Learning Relationship Management (LRM) users will find it exponentially easier to create and deliver content that aligns with the interests of their students. With support from iDesignEDU, they'll be able to better leverage new tools and data and maintain transparency among departments, while keeping relationships central to learning.
"Fidelis' LRM helps schools ensure that students have the relationships that they need to learn, relationships with peers, mentors, and community," says CEO & Founder of Fidelis Education, Gunnar Counselman. "With iDesignEDU we can pair this with excellent competency-based content and best practices that help faculty better connect with students," "By tailoring a student's online education to their real-life purpose, you've increased that student's engagement twofold", says Gunnar.
Having pioneered the LRM movement, Fidelis arms higher education institutions with student lifecycle management tools that make learning more personal and purpose-driven for students. Its comprehensive learning platform is designed to help students take advantage of relationship-based learning opportunities, e.g.mentorship, coaching, supplementary learning and more.
About Fidelis Education
Fidelis Education is the pioneer of the category of education technology called Learning Relationship Management (LRM). LRM allows learning to be more personal and relational for all students by setting them up with the 3 things all students need to succeed (The 3P's of Success™): 1. A motivating purpose, 2. A clear pathway of content and credentials, and 3. a community of people to help them get there. LRM provides a turn-key solution encompassing consulting, coaching, and software, and can make the promise of 10% increases in retention, conversion, and melt for institutions. For more information, or to schedule a product demo, please visit https://www.fideliseducation.com/.
About iDesignEDU
iDesignEDU partners with universities to build, grow and support online and blended courses and program offerings. We are passionate about helping faculty harness the potential of emerging technologies to design courses and degrees that make an impact, whether they are fully online, flipped, adaptive, blended or competency-based. From statewide university systems to private colleges, our custom solutions pair instructional design with technologies to enable great teaching. For more information, please visit http://www.idesignedu.org.