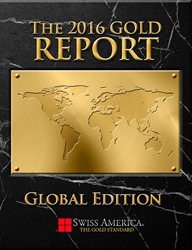 Today's marketplace is highly interconnected and the breadth of the current economic crisis underscores the need for global asset protection. Dean Heskin, CEO, Swiss America
Phoenix, Arizona (PRWEB) March 24, 2016
Swiss America Trading Corporation, a Phoenix based precious metals firm that specializes in wealth protection, has just released The 2016 Gold Report: Global Edition.
The 2016 Gold Report is a topical examination of the world's risk-ridden global economies and gold's resurging role as an essential store of value. Offering an in-depth exploration of global GDP, negative interest rates, China's slowdown and the mounting central banking crisis --- the report maintains that 2016 is a pivotal year for diversification and safe haven allocations.
"Our new Gold Report highlights the dramatic events taking place in international banking, lending and borrowing and their impact on our personal assets," states Dean Heskin, CEO of Swiss America. "Today's marketplace is highly interconnected and the breadth of the current economic crisis underscores the need for global asset protection."
The 2016 Gold Report explores a variety of global trouble spots including international stock volatility, the European debt crisis, slumping oil prices, rising capital outflows and dire GDP forecasts. All of this translates into portfolio vulnerability. The report includes an exclusive "Global Risk Test" which helps gauge financial security in the global marketplace via a simple Q&A about liquidity, diversification, global purchasing power, intrinsic value and other areas highly correlated to economic risk.
"It's important to remember that this not your father's investing climate. The financial world is radically different than it was twenty or thirty years ago. In 2016, we need to protect ourselves from worldwide instability and nothing makes that more clear than our Global Risk Test," adds Heskin.
With the uncertainty of a presidential election, a dovish Fed, increased monetary easing across Europe and Asia, world banks on the brink of meltdown and ever-growing terror threats; 2016 is shaping up to be a critical year in investing. The new report underscores how gold has become one of the biggest winners of the year and its importance as a tangible alternative to all those wealth-tapping market events that often happen half a world away and well beyond our control.
The 2016 Gold Report is a complimentary publication from Swiss America and is part of the company's ongoing commitment to help investors make informed decisions to keep their money safe in a dramatically changing and volatile world.
The report is available via an Instant Download at http://www.2016GoldReport.com or by calling Swiss America directly at: 1-800-289-2646.
Swiss America Trading Corporation was founded in 1982 by Chairman Craig R. Smith and has grown into one of the largest and most respected asset protection firms in the industry and one dedicated to helping consumers navigate the dynamic trends that impact their savings and retirement accounts in an ever changing world.