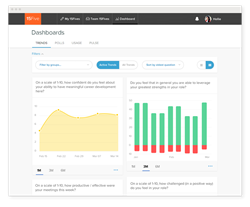 With 15Five Plus, we're giving businesses the combination of data and rich employee feedback, so they have the analytics and insights to keep their top talent and build world-class organizations.
San Francisco, Calif. (PRWEB) March 23, 2016
15Five, a leading provider of employee performance management software, today announced the addition of 15Five Plus, a solution for businesses that melds qualitative employee feedback with quantitative data on employee performance, morale, productivity and engagement.
As the workplace becomes increasingly concerned about employee engagement, companies are looking for solutions that provide detailed insights on how to recruit, manage, measure and retain their best employees. 15Five is modernizing performance management with its holistic view on how to boost employee performance and satisfaction over time.
"Many solutions are emerging in the performance and engagement space, but most are addressing just a piece of the problem through anonymous surveys and goal management," said David Hassell, Founder and CEO of 15Five. "We've always had a stance that what's often missing in today's performance management tools is the qualitative feedback that provides context and depth to data gathered around employee performance and productivity. With 15Five Plus, we're giving businesses the combination of data and rich employee feedback, so they have the analytics and insights to keep their top talent and build world-class organizations."
People Analytics Brings Together Employee Data
According to Gallup, nearly 70% of the US workforce is considered disengaged. According to Bersin by Deloitte, the topic of 'culture and engagement' is the most important issue facing business and HR leaders today. Gathering employee feedback data addresses what's wrong in an organization, but does not point to actionable solution to fix it. Bersin predicts that people analytics will bring together a company's employee-related data to solve specific business problems in such areas as sales, productivity, retention, fraud and customer satisfaction.
15Five Plus Features and Availability
Four years ago, 15Five pioneered the powerful idea of automating weekly check-ins between managers and employees. These web-based check-ins have allowed leaders to get a pulse of their company as managers address employee challenges in real-time. 15Five Plus was inspired by feedback from customers who wanted a solution inside 15Five to aggregate and analyze quantitative data along with their weekly check-in. 15Five Plus is now live and key features include:
Pulse Check: Each week this feature asks people, "How are you feeling?" on a 1-5 scale. The dashboard aggregates the data, giving customers at-a-glance insights into the pulse of individual teams and entire organizations.
Metric Questions: 15Five now provides greater value to large teams, where managers and executives need to understand trends and aggregated data for hundreds or thousands of employees. Managers can ask, measure, and manage questions in the following formats: yes/no, true/false, numerical, percentage, etc.
Polls: One-time polls allows users to ask their team or organization a single question. Answers will aggregate and display in the Polls Dashboard.
Trends Dashboard: When a user asks a metric question more than once, the aggregated data will populate in the Trends Dashboard. Rich analytics and charts provide information on morale, performance, and productivity over time and at all levels in the organization.
Custom Reports: Customers can select and sort answers to any question asked in 15Five for any given time-period. They can easily access detailed information on team and individual achievements or failures, to get an accurate picture of performance over time. These reports can be exported to a CSV file, so that managers can view the entire arc of every employee's career at the company.
15Five Plus is available immediately. Pricing starts at $200 per month, which includes the first 25 people. Other 15Five packages including Basic, Pro and Enterprise.
About 15Five
15Five provides web-based performance management software that improves employee engagement through a lightweight weekly check-in. 15Five encourages employees to regularly reflect on the processes and conditions that stimulate high performance, inspires conversations that strengthen relationships between managers and employees, and provides detailed visibility for company leaders. Over 1,100 businesses worldwide use 15Five to allow employees to share their triumphs and challenges and get regular feedback from managers who support them in reaching their potential. Founded in 2011 by David Hassell, 15Five is based in San Francisco and is backed by leading investors including Matrix Partners and Point Nine Capital.