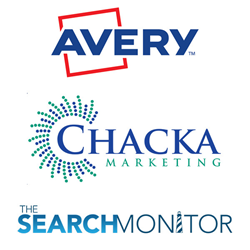 Removing unauthorized brand bidders lowered costs by 51%.
Tampa & Orlando, FL (PRWEB) March 22, 2016
Chacka Marketing, a leading digital marketing agency, and The Search Monitor, a leading ad intelligence platform, today released a case study on how their brand protection efforts increased clicks and lowered costs for Avery's branded search campaigns.
"We discovered several unauthorized advertisers using Avery's trademark (TM) in their ad copy," explained David Grow, Digital Media Manager at Chacka Marketing. "Piggybacking off of a strong brand like Avery's gave them higher quality scores and allowed them to bid more aggressively, steal clicks, and increase Avery's cost-per-click on brand searches."
Chacka's solution was to use The Search Monitor's ad monitoring platform to catch competitors' use of Avery's trademark in their ad copy, a clear violation of the search engines' policies. The monitoring service provided the proof needed to report the violations, including daily reports with the names of the violators, details of their ad copy, time and date of each violation, screenshots, and destination URLs.
"Chacka used time stamped screenshots from The Search Monitor's platform and our auto-submit feature to submit trademark complaints to Google, Bing and Yahoo," explained The Search Monitor's CEO, Lori Weiman. "After the respective channels validated the reported violations, the culpable ads were removed."
Chacka's company officials reported that despite these efforts, one particular competitor kept showing up week after week in their reports, and it took a Cease and Desist letter to finally get the competitor to comply.
Without the boost to their ad relevancy that the word "Avery" was giving them, the unauthorized competitors could no longer afford to aggressively bid on Avery's brand terms. As a result, Chacka's campaigns immediately improved, as follows:

Brand CPCs decreased by 64%
Clicks increased by 34%
Total campaign costs dropped by 51%
Company officials added that the reduction in brand CPCs saved Avery thousands of dollars a year and are being reinvested to drive more awareness, qualified site traffic, and ultimately sales for Avery.
To learn more about the Avery brand protection case study, please visit ChackaMarketing.com and TheSearchMonitor.com.
About Chacka Marketing
Chacka Marketing is a premier digital marketing agency, specializing in paid search engine marketing, social advertising and direct response consulting services. Chacka Marketing's proven approach to digital advertising drives wins for clients by combining the best people with the most innovative technology. To learn more, please visit ChackaMarketing.com
About The Search Monitor
The Search Monitor captures advertising activity on paid search, organic search, social media, mobile search, and shopping engines worldwide for brand and affiliate compliance, and competitive intelligence. Interactive agencies, search marketers, and affiliate marketers use The Search Monitor to gather and analyze competitive information more effectively. To learn more, please visit TheSearchMonitor.com.