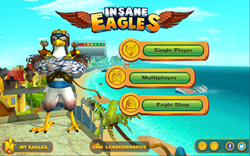 (PRWEB) March 25, 2016
A new mobile game called Insane Eagles gives players the choice of five different eagles to control as they pillage the landscape for coins, food, and other treasures. A variation on infinite runner games, this infinite flyer rewards players that keep flying as long as possible.
Insane Eagles is available now for free on the iTunes App Store and Google Play. In-app purchases can give the player more options.
Each eagle is outfitted with a helmet and armor, which can both be upgraded to offer more protection in collisions. Players can also pick up missile launchers for destroying obstacles, jetpacks for boosting speed, and "exo-wings" for conserving energy.
Missions include objectives like catching 10 prey animals, collecting 50 coins, or flying a certain distance in a single round. Completing missions awards bonus coins and experience points (XP), which in turn help each eagle level up.
Players can choose between tilt controls or on-screen buttons for horizontal and vertical maneuvering. Multiplayer contests pit players against each other in time trials and high score battles.
"As an avid video gamer I always wanted to develop my own games," said Justin Perez of Insane Concepts. "Our first game Insane Eagles is an original concept which combines the elements of an endless runner game with flying controls and energy replenishment through the capture of different animals. We hope that Insane Eagles is the first of many exciting and unique game apps that our company plans to develop over the next few years."
About the Developer
Zco Corporation is a custom app developer with software roots going back more than 25 years. Zco creates exciting, rock-solid products for its clients based on their specs and ideas. Employing one of the largest development teams in the world, Zco specializes in mobile app development, enterprise software, and animation services. To learn more, visit Zco.com or call 603.881.9200.