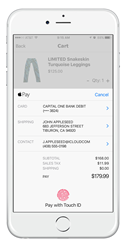 The combination of push notifications with one-touch checkout makes this a killer app for us.
Boston, MA (PRWEB) March 23, 2016
"We're very excited to be using Shopify's iOS and Android Buy SDKs to help our clients adapt to the growing mobile market," says Srinivasarao (NSR) Nandiwada, CEO of Unbound Commerce. "Shopify is a leader when it comes to incorporating new technology, and our clients that are Shopify merchants will now able to offer a better consumer experience to shoppers."
Following its acquisition of Apptive, Unbound Commerce has positioned itself to tackle the major challenge in mobile commerce: cart abandonment. The Apptive(r) platform efficiently delivers and manages mobile commerce apps that run on iPhone, iPad and Android devices for mid-tier and enterprise level merchants.
The new Frictionless Mobile Checkout feature utilizes industry leading technologies like Shopify iOS and Android eBuy SDK and Apple Pay to make the purchase process on mobile even more efficient than on the desktop.
"We're excited that Unbound Commerce incorporated our iOS and Android Buy SDKs into their product offering," said Carlyle Doherty, Partner Manager for Shopify. "Their new Frictionless Mobile Checkout solution allows for faster in-app purchases and is more convenient for consumers."
According to Internet Retailer, sales via mobile apps are on the rise, growing 69% to $59.8B USD in 2015 from $35.5B USB in 2014. A recent study by Citeo showed that mobile apps delivered 370% higher conversion rates than mobile sites.
"The new FITMAMA app is terrific. Our iPhone shoppers have quickly adopted Apple Pay and we are already seeing new transactions," says Erika Boom, Owner, FITMAMA Apparel. "The combination of push notifications with one-touch checkout makes this a killer app for us. It's a great way to engage our loyal customers and makes it super easy for them to buy from us."
Ms. Boom added: "Unbound Commerce has done all the work. They've been a pleasure to work with."
Shopify merchants who wish to learn more about the new Shopify SDKs and about Unbound Commerce's mobile offering can visit: https://www.shopify.com/mobile-buy and http://www.unboundcommerce.com/apptive.
About Unbound Commerce
With more mobile and tablet commerce deployments than any other solution provider, Unbound Commerce is the industry's #1 provider of mobile solutions for mid-market online retailers. Unbound's unique approach combines pre-built, out-of-the-box functionality with custom enhancements to deliver the best mobile solutions cost effectively. Unbound has built and deployed dedicated mobile commerce sites and apps for Finish Line, Sears, Equippers, Crescent Electric, Rockport, Mattress Firm, Bedding Style, Patrick James, Shoe Carnival, FLOR, Cavenders, and over 600 other retailers and B2B merchants.
Media Contact: Keith Lietzke, Unbound Commerce, (866) 503-7005, klietzke(at)unboundcommerce(dot)com