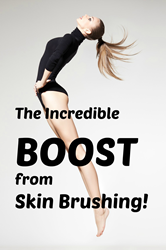 Skin Brushing Boosts Circulation and Releases Endorphins for Well-Being and Invigoration. The Sublime Beauty® Skin Brush is Available on Amazon.
St. Petersburg, FL (PRWEB) March 23, 2016
Skin Brushing is a time-honored ritual for healthy skin and well-being. The Sublime Beauty® Skin Brush is not only sturdy but offers a dual-head: one side features nubs for cellulite massage, while the other side is natural bristles for brushing the skin.
Models like Cindy Crawford, Christy Brinkley and Miranda Kerr rave about Skin Brushing for good reason. "Your skin glows with good health, and you benefit your lymphatic system for improved wellness," says Kathy Heshelow, founder of Sublime Beauty®.
The company has a site devoted only to Skin Brushing.
The Sublime Beauty® Skin Brush features natural bristles that are not too hard but not too soft - just right for the skin. It is available on Amazon for $15.99 now. There is a 100% money-back guarantee on all Sublime Beauty® products.
The 6 page Skin Brushing brochure is sent after purchase by email through Amazon.
Sublime also offers a portable travel body brush as well as facial dry brushes.
ABOUT: Sublime Beauty® is a French-inspired quality skincare company that focuses on products to Age Well. Ingredients help to boost collagen, hydrate, relax wrinkles and improve skin. A niche includes healthy Skin Brushes. Sign up for Secret Sales on the company website. Products also available on Amazon.