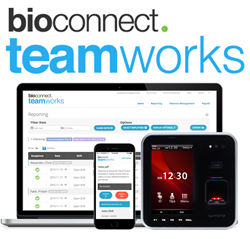 "TeamWorks' cloud architecture enables us to continually deliver additional value to our Customers." - Rob Douglas, CEO of BioConnect
Toronto, ON (PRWEB) March 23, 2016
BioConnect announced today that they will be demonstrating their new cloud-based identity application at the largest security industry trade show in North America. BioConnect will produce a number of applications leveraging biometric authentication and cloud technologies where identity is core to the value proposition. BioConnect TeamWorks is the first - an identity application using verified identity with workforce management to track employee attendance and absence management.
BioConnect combines the leading-edge biometric hardware from Suprema with TeamWorks to provide complete and accurate visibility into the workforce. TeamWorks is designed specifically for businesses with 1 to 100 locations. It supports unique requirements for managing vacation and sick days, payroll, attendance tracking, as well as for compliance issues, such as mandatory breaks and overtime laws that vary regionally.
TeamWorks identifies employees based on their rightful identity (biometric modalities like fingerprints), eliminating the need for non-secure methods of employee time tracking such as punch cards, PINs or other third party credentials that can be easily lost, shared or stolen. It is the most effective way to eliminate time theft, reduce manual processes, improve data capture, and increase compliance with local labor laws. Employees are no longer represented by a piece of paper, a password, or other historic forms of suspect identity. TeamWorks enables employees to present nothing but themselves to verify who they are, eliminating pain points and and giving the enterprise confidence in secure and accurate data.
"Organizations that manually track time often struggle with similar processes to track employee absences. We will be showcasing our new absence management release at ISC West", added Rob Douglas, CEO of BioConnect. "TeamWorks' cloud architecture enables us to continually deliver additional value to our Customers."
Companies can use TeamWorks to replace manually intensive employee tracking methods that are costing businesses time and money. The application can be accessed through any web-connected device, from anywhere, at any time. Stay connected to the team with real-time customizable alerts and notifications of vacation requests and sick days. BioConnect TeamWorks gives employees back their rightful identity, and gives managers the confidence and convenience of one consolidated, secure and accurate application.
Visit BioConnect at ISC West from April 6-8, in Las Vegas, NV in booth #22075 to get a live demo of TeamWorks. BioConnect will be offering the Absence Management feature of TeamWorks for free to everyone who visits their booth.
For more information, visit http://www.bioconnect.com.
About BioConnect:
BioConnect is on the Quest for Rightful Identity, empowering people to use credentials that are completely unique to them, such as one's face, eyes, heartbeat or fingerprint. Our core solutions – our identity management platform, applications and partnerships enable the simple integration of current and future biometric technologies delivering greater security, assurance and convenience in an enterprise setting today and tomorrow.