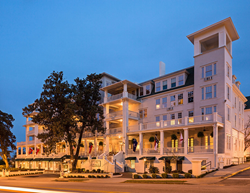 Augusta, GA (PRWEB) March 28, 2016
The 2016 Masters Tournament is coming April 4 through April 10, and this will be the first year to showcase Augusta's entirely renovated Partridge Inn, a part of Curio-A Collection by Hilton. Visit The Partridge Inn during Masters Week and book highly-coveted VIP accommodations or visit for special events and dining at The P.I. Bar and Grill. The Partridge Inn and its staff are ready to welcome visitors to Augusta with Southern Charm and first-class service.
Rooms are still available for visitors to book for the 2016 Masters Tournament; for Practice Rounds on Monday April 4 through Wednesday April 6, as well as the Championship round on Sunday April 10. In addition to the hotel's newly renovated modern design, rooms infuse touch points that guests are looking for; including exceptional Internet connectivity, 42" televisions with more than 100 high definition channels, high-end linens and Tesla Destination charging stations. Guests who stay at The Partridge Inn are rewarded with special treatment including a complimentary shuttle to Augusta National, breakfast daily in the P.I. Bar and Grill, and custom welcome gifts. All reservations for Masters® Practice Rounds can be made by booking online through Hilton Curio at partridgeinncurio.com.
On Thursday of Masters Week, April 7, The Partridge Inn hosts a fundraiser Casino Night beginning at 9 p.m. For $100 per person, guests receive entry into the Casino, 25,000 in chips, and unlimited drinks. The event takes place in the Summerville Room on the first floor of the hotel. A portion of the proceeds for the Casino Night benefit the Augusta Wounded Warrior Project.
Hotel guests will also have access to additional hospitality areas which offer specialized catering and dining options. With exquisite cuisine at the P.I. Bar and Grill, new Executive Chef Robert Plouffe serves inventive dishes that touch on French, Southern and Modern American cuisine. Guests have options for enjoying food and beverage al-fresco on the verandah, on the lighted Cigar Bar patio, or in the sleek bar area, where guests can enjoy live entertainment and Masters® Tournament viewing on the big screen televisions.
Owned by Partridge Inn Holdings, and managed by NorthPointe Hospitality Management, LLC., The Partridge Inn's new design preserves the historic architectural features of the Inn's former design while offering a sophisticated, contemporary interior. The original woodwork and ceiling tiles have remained completely intact, but are complemented by modern furniture and light fixtures. All renovations were thoughtfully curated by Sims Patrick Studio, and are consistent with the traditions of the historic hotel.
Additional information on The Partridge Inn is available at partridgeinncurio.com or by calling 706.396.2614.
###
About The Partridge Inn
partridgeinncurio.com | Facebook.com/ThePartridgeInn
The Partridge Inn began life in the 1890s as a modest two-story private residence, opening as The Partridge Inn in 1910. The hotel enjoyed such great success, that expansion after expansion led to its present city-block size in 1929. The hotel gained prominence as a central gathering spot for the winter elite, hosting golf legends, presidents and legendary tea-dances in its grand halls and ballrooms, while the ground floor housed a post office, telegraph office, flower shop, bookstore, barber shop and hairdressing parlor. Over the next few decades, The Partridge Inn reigned as the epicenter for social activity and out-of-town guests. But time eventually took its toll, and the aging hotel faced total demolition in 1978. The Partridge Inn was saved, renovated, and reopened in 1987, continued to prosper and receive recognition for its restoration. Under new ownership and management, The Partridge Inn has just undergone a multi-million dollar renovation to restore the historic hotel to its original grandeur. http://www.partridgeinncurio.com
About NorthPointe Hospitality Management, LLC
NorthPointe Hospitality Management, LLC is a comprehensive, added value management company based in Atlanta, Georgia. Experts in managing all aspects of hotel operations from accounting to staffing, to food and beverage operations, NorthPointe Hospitality's main focus is to ensure exceptional returns by deploying cutting edge techniques in financial management, guest service, quality assurance and employee retention. Its principals have a 30-year history in the hospitality business overseeing both full and select service hotels. http://www.northph.com