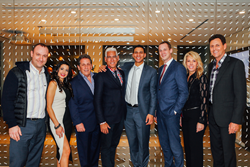 Los Angeles, CA (PRWEB) March 23, 2016
Compass, a luxury real estate platform with best-in-class technology, announces the opening of its new Los Angeles headquarters in the heart of Beverly Hills. The firm now occupies the entire fourth floor at 9454 Wilshire Boulevard, a 12-story landmark building structure on the corner of Wilshire Boulevard and Beverly Drive in the prime Beverly Hills Golden Triangle. The move more than doubles Compass's Beverly Hills footprint.
"After being in Los Angeles for only four months, Compass has already grown at an incredible pace," said Stan Richman, Regional Vice President of Compass. "Our winning combination of agent support, groundbreaking technology, and culture-first attitude has gained great traction with agents in the market, and we're pleased to have welcomed agents representing over $900 million in annual sales volume to the Compass family. From our new base in Beverly Hills, we look forward to continuing our growth through Southern California and beyond."
In addition to a top in-house marketing agency, Compass's talented West Coast agents are supported by a staff of more than 30 dedicated professionals and an industry-leading management team with more than 160 years of combined real estate experience.
Compass is celebrating its office opening with a week of agent-driven programming and events, including leadership panels, networking initiatives, and tours of some of the area's most luxurious properties. Many Compass agents and leaders from across the country are joining the firm's LA-based team to celebrate.
Since launching in Los Angeles in November, Compass has expanded into Malibu, Santa Barbara, Montecito and Pasadena. In February, Compass inked a lease for 4,400 square feet at 1283 Coast Village Circle in Montecito.
Launched in New York in 2013, Compass has quickly become a leader in the national market representing more than $5 billion in annualized volume of home sales.
About Compass:
Compass is luxury real estate platform with best-in-class technology dedicated to creating a seamless and intelligent home buying, selling, and renting experience. Combining the country's top agents, proprietary market insights, and integrated mobile and web technologies, Compass is developing the future of real estate decision-making. Compass has locations in New York City, Washington DC, Boston, Miami, Los Angeles, and the Hamptons, and has raised $135 million in investor capital. For more information on Compass, and to view more than $4 billion in exclusive Compass properties, visit http://www.compass.com