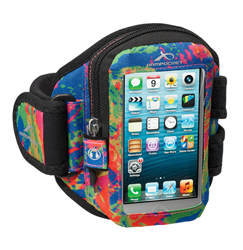 "We even have carrying solutions to fit Apple's new recycling robot "Liam" who along with Armpocket will be working to protect our environment by reducing the waste we deposit in our landfills."
(Miami, Florida (PRWEB) March 23, 2016
Armpocket®, developers of the industry-leading Ultimate Armband® carrying solutions since 2006, is excited to announce its Ultimate carrying solution for the newly released iPhone SE. The iconic design of the iPhone SE with its retro-sized 4-inch screen is a highly applauded return to a practicality. Perfectly complementing the new phone's high-performance features and compact size, the Armpocket Aero® i-10 comes loaded with the features, comfort, and durability equal to the iPhone SE.
Laboratory tested to IP-X4, this weather proof and sweat proof, hands-free carrying solution guarantees phones will be safe from moisture damage. Moreover, rated to Military Standard, this Ultimate Armband's Eco-Friendly fabrics and quality construction, ensures the iPhone SE is protected against dust, dirt, sharp object penetration and scratches – and it is machine washable. With its patented memory foam padding that contours to the unique shape of any arm, this new phone will be protected from accidental drops from heights up to 4 feet.
With three interior compartments for keys, ID, credit cards, and more, the Aero i-10 is guaranteed not to slip, keeping your arm cool and dry. Its moisture-wicking and vented bamboo mesh strap, back, and side comfort panels promotes evaporative cooling—so comfortable, it's forgotten. The feeling of security and confidence the Aero i-10 delivers as it protects the new iPhone SE from loss, or theft is never forgotten – no protective case can promise that.
Armpocket Aero i-10
Praising Apple's newly announced recycling efforts, Jytte Nielsen, Armpocket president and CEO applauds, "Apple's pledge towards post-consumer recycling reflects the values and environmental stewardship Armpocket has been committed to since our company was founded ten years ago." Constructed from post-consumer recycled plastic bottles and naturally sustainable bamboo, Armpocket Ultimate Armbands are the highest quality and "smartest" smartphone accessory available. With eight great colors and three strap lengths, Armpocket has the carrying solution for every activity, every arm size, and every lifestyle. Nielsen adds, "We even have carrying solutions to fit Apple's new recycling robot "Liam" who along with Armpocket will be working to protect our environment by reducing the waste we deposit in our landfills."
###
About Armpocket:
Founded in 2006, Armpocket is the industry leader in designing, manufacturing, and distributing high-quality, eco-friendly armband carrying solutions for active lifestyles. Armpocket Ultimate Armbands are sold in select specialty sporting goods stores, Target, and online at http://www.armpocket.com