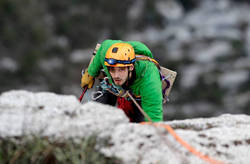 "Our ambassadors for 2016 are adventurers, advocates, and well-respected members of their communities with whom we are proud to partner," Rick Case said, Nite Ize founder and CEO.
BOULDER, Colo. (PRWEB) March 24, 2016
Hooked to a belt loop at the summit of Machu Picchu; wrapped around a sleeping pad while glassing big game in the Rocky Mountains or laced into the eyelets of trekking shoes pounding the Patagonia terrain -- Nite Ize® products are intended to make life easier, safer and more fun even in the most extreme environments.
This Colorado manufacturing company is excited to announce its official brand ambassadors for the 2016 year which include experts in everything from hunting to adventure racing. Throughout the next year, Nite Ize brand ambassadors will share their adventures on the company's blog and other social channels as they challenge their mind, body and gear all over the world and rely on Nite Ize in some of the most critical conditions.
"Our ambassadors for 2016 are adventurers, advocates, and well-respected members of their communities with whom we are proud to partner," Rick Case said, Nite Ize founder and CEO. "We love to see the ways these outstanding individuals champion the Nite Ize brand by sharing their uses of our products and we are honored to be along for the journey."
Meet the team:
Gareth Leah: Worldly adventurer, passionate writer, rock climber and outdoor enthusiast. When he's not working on a new adventure travel guide for Parque La Huasteca (Mexico), Leah spends his time teaching underprivileged youth how to rock climb and the importance of protecting their natural resources.
Matt Moniz: Alpinist, adventurer and advocate. In 2010, Moniz was named National Geographic's Adventurer of the Year and in 2015 was the youth winner of the Outdoor Inspiration Award at the Outdoor Retailer Winter Market national tradeshow. Seventeen-years-old, Moniz is passionate about the outdoors – skiing, climbing, mountain biking and protecting the land that makes these activities possible.
Willi Schmidt: Hunting professional and ardent conservationist. Known as the host of Pure Hunting on the Sportsman Channel and a guest-host for Winchester's Whitetail Revolution series on Versus Network, Schmidt is no stranger to the world of big-time, prime-time hunting.
Team YogaSlackers: Premiere U.S. adventure race team that competes in races around the globe; known for making bold choices, having fun in even the harshest conditions and inspiring new racers to enter the sport. Ranked in the top 10 in the world.
Twin Territory: Three young brothers with a mission to get other kids outdoors by organizing free events such as hikes, fishing trips and more. At their organized events, the Garcia brothers ask participants to donate a used video game in an effort to encourage more outdoor activity which they then donate to children in a Salt Lake City hospital who are not able to get outside while recovering.
Adventcha Sistas: Two women, exploring the outdoors one adventure at a time. Determined to summit all 14,000-foot peaks in Colorado with plans to conquer Machu Picchu in Peru later this year, the Adventcha Sistas are empowering other women to explore the outdoors and reach new heights.
Also part of the Nite Ize ambassador team from 2015 with plans to continue in 2016: professional kayak fisherman Christina Weber, race car driver Dan Martinson, competitive disc golfer David Waisblum and survivalist Forrest Galante.
For more information about all Nite Ize ambassadors, visit NiteIze.com/Ambassadors.
About Nite Ize:
Founded on the principles of creativity and innovation, Nite Ize designs, manufactures and distributes solution-based products with quality and performance at their core. Headquartered in Boulder, Colo., the company celebrates its 27th anniversary in 2016 and offers more than 500 innovative products and accessories in six unique categories: mobile, hardware, LED, flashlight, pet and lifestyle. Still captained by its founder and CEO, Rick Case, the Nite Ize team is passionate about their products, their customers, their partners and the environment.
For more information, please visit NiteIze.com.
Media Contact: Kelly Richardson / 720-508-4741 / krichardson(at)niteize(dot)com