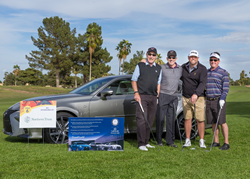 SURPRISE, ARIZ. (PRWEB) March 23, 2016
One-hundred ten golfers turned out for Sun Health Foundation's annual Swinging In The Sun for Charity tournament, held March 7 at Wigwam Arizona Patriot Golf Course in Litchfield Park.
The tournament raised $65,000 for Sun Health's community health and wellness programs, which help West Valley residents improve their health and well-being, avoid hospital admissions and readmissions, and assist those with chronic illnesses to better manage their care. Many of the programs are provided at no cost or low cost to the community.
The tournament raised funds through corporate sponsorships, registration fees, Lexus Champions for Charity drawing ticket sales and a silent auction.
"I can't say enough good things about the golf-planning committee, Foundation staff and volunteers, Wigwam Arizona employees, the sponsors and the golfers who came together to make it a success," Annual Giving program manager and tournament coordinator Elizabeth Walton said.
The tournament featured a hybrid format comprised of 11 par-3 holes and seven par-4 or par-5 holes. Golfers also participated in skills contests, a closest-to-the-pin competition and a million dollar shoot-out. Nine of the par-3 holes featured hole-in-one prizes for Lexus automobiles from Arrowhead Lexus and Lexus Champions For Charity. There were no winners on the prize holes.
A foursome from Cypress Home Care had the best overall score of the day. The team included Bob Roth, Sheldon Roth, Tom Shultz and Joey Snyder.
Tom Shultz was the winner of a ticket drawing to play in the 2016 Lexus Champions for Charity Golf Tournament, which will take part in December on three of Pebble Beach, California's legendary golf courses.
Sun Health's community health and wellness programs include: Care Transitions, Community Education, Memory Care Navigator, Medication Management, the File and Vial of Life and the Centers for Health & Wellbeing.
Sun Health Foundation is grateful for all sponsors that made the tournament possible.
TITLE SPONSORS: Arrowhead Lexus, Lexus Champions for Charity
GOLD SPONSORS: The Weitz Company
SILVER SPONSORS: Northern Trust, CornerStone Partners LL
BRONZE SPONSORS: Aetna, Bankers Trust, Blue Cross Blue Shield of Arizona Advantage, BMO Harris Bank, Client Focus Printing, DMB Inc. Associates, HilgartWilson, orcutt | winslow, Plante Moran PLLC, Southwest Integrated Solutions, Wells Fargo, Wilhelm Automotive
TOURNAMENT SUPPORTERS: Wigwam Arizona, Sun Health Foundation Board of Trustees
About Sun Health
A long-standing champion of healthy living and superior health care, Sun Health is a community-based nonprofit providing pathways to population health through philanthropy, senior living programs and communities, and community wellness programs and services. Sun Health Foundation donors have supported superior health care in the West Valley for nearly 50 years. The foundation is the philanthropic partner to Banner Boswell and Banner Del E. Webb medical centers and the Banner Sun Health Research Institute, as well as community wellness programs provided by Sun Health.
Learn more at http://www.sunhealth.org and http://www.sunhealthfoundation.org