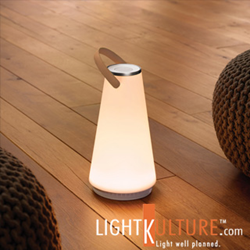 Fusing state-of-the-art Warm Dim LED technology, with 360 degree high fidelity surround sound, UMA provides a one-of-a-kind portable light and sound experience.
Los Angeles, CA (PRWEB) March 24, 2016
LightKulture.com is excited to participate in the launch of the new UMA sound lantern by Pablo Designs. "Just in time for Spring, Pablo Designs presents UMA, their first rechargeable portable lantern with integrated Bluetooth compatibility", noted Susan Inderbinen President of LightKulture.com. In design collaboration between Carmine Deganello, Pablo Pardo and Pablo Studio 2015, the portable lantern for the modern age has been redefined. Fusing state-of-the-art Warm Dim LED technology, with 360 degree high fidelity surround sound, UMA provides a one-of-a-kind portable light and sound experience. Fingertip touch-sensitive volume control and full-range dimming control, are both conveniently located at the top of the lantern.
UMA is the perfect centerpiece for social gatherings and intimate moments, indoors or out. She is portable and rechargeable, lasting up to 8 hours on a single charge. The 360 degree speaker, with subwoofer, captures the base to provide rich, high-fidelity sound. Stream the highest quality audio wirelessly from any mobile device. Weighing less than 3 lbs, Uma comes complete with a 6' power cord and protective cotton bag with leather cord. The energy efficient 4.5 watt LED light source adjust in color from 2000-2700 Kelvin. The UMA Sound Lantern provides a warm color temperature and a soothing campfire glow of light, that is fully dimmable. Available to preorder now for April delivery, UMA makes a great gift for anyone who enjoys bringing indoor comforts outdoors.
For more information go to
Pablo Designs - http://www.lightkulture.com/uma-led-lantern-w-bluetooth-speaker-pablo/
LightKulture.com Introduces UMA by Pablo Designs, Intergrated Portable Light and Sound Lantern, Now Available for Pre-Order.
"Pablo Designs is a brand to watch. Pablo and his team, are always coming up with innovative concepts in lighting. Pablo was one of the first brands to incorporate USB ports in most every task lamp they design. Recent product introduction milestones that have had great success are: Pixo, Lim 360, Swell, Lana and Contour. UMA is the first time Pablo has combined a product that stimulates both your senses of sight and sound. UMA is portable, and rechargeable. It's great to take along outside by the pool, or bring it to the beach, just don't get it wet .It is a light, but does not alway have to be one. Sometimes it can simply be a source of music. Other times it can provide mood lighting or task lighting. Yet, at other times, it can perform both tasks simultaneously. With the swipe of a finger, you can adjust the volume form personal listening mode to party DJ. With the simple turn of a dial, you can control the level of light. This new lantern interpretation is a game changer. Availability will be limited to start, but will ramp up in time for summer. Pre-ordering now can lock in your shipping date next month", noted Susan.
About LightKulture.com
At LightKulture.com, our mission is to offer the finest energy efficient contemporary lighting and light fixtures from around the world. We have assembled an exciting collection of the industry's most innovative decorative and architectural lighting.We are proud to offer lighting solutions for both your home and work-life environments. Simplicity in design is complicated, function makes it last. Be inspired by our range of essential designs from well respected American and European manufacturers. In today's world, energy efficient lighting is as important as eco-friendly or green lighting fixtures, such as LED or CFL lighting. We offer the very best energy efficient lighting and light fixtures, both high value LED lighting fixtures and CFL lighting fixtures in modern and contemporary styles that provide quality, innovation and authenticity.
LightKulture
http://www.lightkulture.com/
Email. sales(at)lightkulture(dot)com
Tel. 941-330-0422