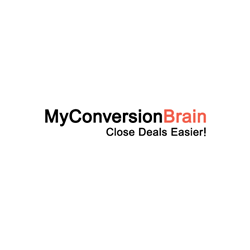 (PRWEB) March 24, 2016
What is MyConversionBrain?
MyConversionBrain is one of the most powerful lead tracking solutions and marketing automation tools on the market right now. This is a brand new cloud solution that is taking lead conversion to the next level for a lot of businesses. This is 'intelligence driven marketing at its most efficient.
Specifically, MyConversionBrain allows companies to learn more about the people behind the leads and specific source traffic behind them. Today many businesses just monitor their traffic using analytic tools like Google Analytics, which will limit the marketing insights in several ways.
For example, goal conversions can be a very misleading metric because companies can never find out the person behind the lead. Thus it will be impossible to calculate the true ROI for any business.
Due to increased marketing costs especially with Google Adwords, companies need to know precisely which leads are coming from where so they can focus on the marketing strategies that are working for them.
What Does MyConversionBrain Do That Other Lead Tracking Solutions Can't?
MyConversionBrain blows other marketing automation tools out of the water when it comes to the features it offers and the data it helps companies to collect. MyConversionBrain can tell you:

Find out the lead source – down to the precise keyword and exact page
The location of the leads' IP addresses where they inquired from
Which pages the leads browse before and after the inquiry as well as the inquiry page
How many leads are generated from offline advertising – and specifically which magazines and adverts are bringing the best leads
That's the lead tracking tool part, but what about the marketing automation tools? Well, after collecting all these useful data, MyConversionBrain then allows companies to use that information in highly useful ways. Create custom reports based on the status and performance of the leads (which is very useful for SEOs and marketers), update and track leads with ease, track the performance of sales representatives, get notifications when specific leads return to the website and learn how long they're spending there.
All of this makes life much easier for businesses and allows them to optimize their model and manage their team more efficiently.
Why Companies Need to Use Marketing and Sales Automation Tools
Lead tracking solutions are not just about making companies lives easier (though they certainly do that) – they're also about helping to generate a lot more sales and to engage with their leads in a much more effective manner.
Businesses are losing countless of sales as a result because they're not able to follow up on their leads and take them from that initial interest to the close.
MyConversionBrain helps companies to do this and it also helps to see where the money is best spent and how to invest to drive far more sales. It makes a big difference in regards to business strategy to know when a lead returns to the website – and to know exactly how they got there.
Until now, smaller businesses just haven't had access to this kind of insight and data unless they fork up with thousands of dollars. Traditionally, sales automation tools charge a premium for these services which have given bigger corporations the edge. But MCB's creator John Hedin aimed to change this and that's exactly what he's done. Now true lead tracking is available for everyone and it's a game changer.
Now anyone can benefit from the power of MyConversionBrain. It can be used for small business owners looking to convert more leads into paying customers, or companies running an SEO/PPC agency and want to provide the best possible service to their clients – MyConversionBrain can help companies do that and much more.
Get a Free Demo today and find out what your business is missing out on or check out http://www.myconversionbrain.com and learn more.
Address:
MyConversionBrain Co. Ltd.
9350 Wilshire Blvd, Suite 203
Beverly Hills
CA 90212