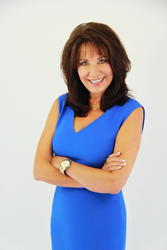 My simple techniques will help you make the small shifts, intentional choices, and the big bold leaps that will help you move from chaos to clarity and simplify your life."
Manhattan Beach, CA (PRWEB) March 30, 2016
Cindy Ertman, best-selling author, coach, success strategist and founder of The Defining Difference, recently launched an online training program for overworked professionals looking to reclaim more time in their busy days. "From Chaos to Clarity – How to Reclaim Your Life & Accelerate Your Results" contains seven simple productivity solutions, based on proven research, to reduce stress, improve focus, and achieve balance in life.
Touted as an online crash course in extreme productivity, "Chaos to Clarity" incorporates Cindy's underlying vision of mastering the power of intentional choice to create a defining difference in your life. The program provides shortcuts, workarounds and quick tools designed to help professionals determine where they are losing valuable time; how to eliminate energy drainers to effectively manage time; how to find more time to prioritize income producing activities; and how to find more time to do the things they love.
"Whether you are a top salesperson at a corporation or a professional with multiple demands at work and at home, this program can help you reclaim hours in your day and, ultimately, joy in your life," explains Cindy. "My simple techniques will help you make the small shifts, intentional choices, and the big bold leaps that will help you move from chaos to clarity."
To learn more about Cindy's "Chaos to Clarity" program click here.
Cindy's simple, yet effective techniques were developed over the past 20 years through training, coaching, and in-depth conversations with leading experts in achievement and success. She has leveraged her wealth of experience in helping people transform their professional and personal lives to hone her techniques and systems into a series of shortcuts and quick tools that result in valuable and lasting change.
The "Chaos to Clarity" program consists of seven online modules which contain tips and techniques that, when practiced consistently, can help professionals reclaim their lives and their time by reducing stress, improving focus and increasing productivity. Modules include:

Prioritizing Your Life – exercises to overcome procrastination and prioritize everything in your life
Eliminate Your Energy Drainers – techniques to identify your energy drainers and free up some time and energy in order to create space to focus on the important things/people in your life
Spend More Time in Your "Genius Zone" – analysis of how are you are truly spending your time and tips on how to determine what tasks can just as easily be done by someone else
Find 5 More Hours in Your Week – methods for making the best use of the time you have and tips to save you anywhere from 15 minutes to 3 hours in your day
Time is Money – a simple, yet effective, daily exercise to ensure that you allocate time each day to hone your focus and align your actions towards income producing activities to deliver the financial results you desire
Practice Daily Success Rituals – a guide to jump-starting your day with daily "wake-up" routines that build positive momentum
Mindful Success - mindfulness and meditation skills to help you to show up in the world in a much more powerful way and make magic happen
About Cindy Ertman:
A dynamic speaker, author, coach, TV host and success strategist, Cindy Ertman is CEO and Founder of The Defining Difference, a success based coaching and training company devoted to helping people master the power of intentional choice to create a defining difference in their own lives.
After being acknowledged as one of The Top 100 Most Influential Mortgage Executives in America by Mortgage Executive Magazine for 3 years in a row and years of inspiring growth in her industry, Cindy has now dedicated her life to empower the growth of others. She has developed a track record of helping high achievers shift the way they see the world and expand their vision of possibility by teaching them her personal success approach called The Defining Difference®.
Her coaching and training programs help her clients get more out of life by making powerful, intentional choices to propel their income and achieve their peak performance, nurture their health and wellness, build connected relationships and reduce stress by removing the blocks that limit their potential.
Cindy is a catalyst for transformation. Her passion is teaching men and women alike -who have achieved a certain level of success – and now are searching for something more – how to make intentional choices that inspire a shift in commitment, motivations and success habits to drastically shift results. She supports them in bridging their GAP (Goals Aligned with Purpose) so that they can positively impact the course of their future.
In early 2015, Cindy joined 3 other amazing hosts for the conscious-edge, thought leading talk show called Wake Up! The show is focused on supporting and empowering women to lean into a bigger conversation in order to wake up their minds, wake up their bodies, and wake up their souls.
She is a founding and active member of the Association of Transformational Leaders (ATL) which is a forum for individuals of significant influence in artistic, academic, social, political, corporate and humanitarian endeavors, devoted to doing transformational work in their respective fields.
Cindy graduated from University of the Pacific in Northern California and is a native of Southern California. Cindy enjoys spending time with her close family and friends. She has a passion for travel, cooking and walking the beach in her local community.
Cindy's soon to be released on-line training course, '6 Weeks to Total Success' and her groundbreaking new book, The Defining Difference®, to be released in 2016, teaches her proven success formula that she has used to catapult her achievements throughout her life – both personally and professionally. To learn more about Cindy's Coaching, Training and Speaker Services, please visit http://www.TheDefiningDifference.com or email Cindy at Cindy(at)TheDefiningDifference(dot)com.