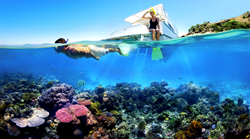 We believe that honeymoons are important, and we go out of our way to make sure a couple's celebration of their love is a joyous and memorable event
San Ignacio, Belize (PRWEB) March 25, 2016
A luxurious weeklong Caribbean honeymoon, once out of reach for many couples, is now possible thanks to a newly discounted Belize vacation package just announced by The Lodge at Chaa Creek, according to the popular eco resort's wedding coordinator.
However, Denise Duran said that couples will need to act quickly to secure a booking for this limited time, July 2016-only Belize vacation surf and turf package that combines a stay at Belize's premier jungle lodge with a Caribbean island sojourn.
Ms Duran, who heads Chaa Creek's Romantic Adventures team, said that Chaa Creek has partnered with the Matachica Beach Resort on Belize's Ambergris Caye to offer the "All you Need is Love" Belize Great Barrier Reef and Rainforest Honeymoon package throughout the month of July 2016.
"Chaa Creek has been hosting destination weddings and honeymoons for over thirty years, and I think this is the most comprehensive, satisfying and, considering everything that's included, affordable honeymoon package we've ever offered," Ms Duran said while announcing the "All you Need is Love" Belize Great Barrier Reef and Rainforest Honeymoon package.
She cautioned that, as bookings are only accepted for the month of July, and numbers are limited, interested couples should act quickly to avoid disappointment. Once booked, however, couples have nothing more to plan or pay for to enjoy an eco-luxe honeymoon at two of Belize's most highly regarded eco-resorts covering the country's two most sought-after destinations.
"'All you Need is Love' is an apt description, as everything needed for a complete, luxurious honeymoon, from accommodation, dining, activities, transfers and everything else is included for one set price," Ms Duran explained, "We worked closely with Matachica and combined our expertise and resources to not only bring down prices, but to ensure a seamless, carefree way to experience the inland jungle and explore ancient Maya temples before enjoying the sparkling Caribbean beaches and tropical nightlife at Belize's most popular island.
"I've been fortunate to work with couples for years now, and I know that the last thing they want to do on a honeymoon is bother with details and worry over expenses. With this all-inclusive Belize vacation package absolutely everything, except for alcoholic and specialty drinks, is included. From the moment we pick them up at Belize's international airport, honeymooners are well looked after by both resorts until we drop them back off," she said.
The Chaa Creek portion of the Belize Great Barrier Reef and Rainforest Honeymoon includes eco-luxe accommodations within a private 400-acre rainforest nature reserve with breakfast, lunch and dinners at the resort's Mariposa restaurant, which offers fresh farm-to-table and Caribbean seafood meals under a huge airy thatched roof. A range of activities that include excursions to the ancient Maya city of Tikal in neighbouring Guatemala as well as the pyramid and ancient buildings at Belize's Xunantunich and the Maya ceremonial caves at Barton Creek, guided tours of the onsite Belize Natural History museum and butterfly farm, canoeing, swimming with poolside service at the infinity pool, guided nature walks and more.
Ms Duran added that honeymooners will also be eligible to receive special discounts for treatments at the resort's internationally recognised Hilltop Spa. "It's a very complete, all-inclusive Belize vacation, but flexible enough so that couples can enjoy all Chaa Creek amenities."
The Matachica Beach Resort is one of Ambergris Caye's most established and respected Caribbean resorts. During their stay at Matachica, honeymooners will receive a welcoming cocktail, accommodation in a "SeaBreeze" Suite, all meals, round-trip domestic air transfers, round-trip water transfers between Matachica and San Pedro town, snorkelling expeditions to Hol Chan and Shark Ray Alley, a one hour aromatherapy massage at the Jade Spa, swimming with snorkelling gear and use of sea kayaks are all included.
"The Matachica Beach Resort shares our green, responsible travel ethos and attention to quality, so honeymooners can be assured of a consistently high level of service that's also kind to the environment," Ms Duran said. "And, by booking now for a July honeymoon, couples will enjoy significant savings that makes a tropical rainforest and Caribbean island honeymoon as affordable as a more run-of-the-mill domestic vacation.
"We believe that honeymoons are important, and we go out of our way to make sure a couple's celebration of their love is a joyous and memorable event. I like to think that years from now a couple will look back at their time here and say, 'that was amazing'. Knowing that happens is what makes this job so satisfying," Ms Duran said.
Couples can contact their travel agents or Chaa Creek directly to enquire about the July "All you need is Love" honeymoon package, she added.
The Lodge at Chaa Creek is a multi award winning eco resort set within a 400-acre private nature reserve along the banks of the Macal River in Belize.
ENDS