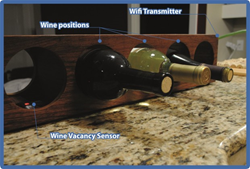 "We had been so busy all week with work and life in general that we had forgotten to restock our wine supply. We thought "Wouldn't it be awesome if the Wine Rack was smart enough to re-stock itself?"
Philadelphia, PA (PRWEB) March 23, 2016
EndlessWine, the revolutionary new smart wine rack that ensures users will never again run out of wine, is live on Indiegogo and raising funds to bring the project to life.
EndlessWine has pioneered a new category in wine racks: the app enabled, self-replenishing wine rack. The wine rack looks like a simple 5 position wooden construction wine rack, but inside lies a technology wine aficionados the world over will appreciate.
"We first came up with the idea for EndlessWine when we were hanging out with a few friends one weekend, drinking wine, having a great time, and we went to reach for another bottle of wine…." says co-founder Scott McIlvaine, "but much to our embarrassment, we had finished the last bottle. We had been so busy all week with work and life in general that we had forgotten to restock our wine supply. We thought "Wouldn't it be awesome if the Wine Rack was smart enough to re-stock itself?"
Position sensors in the wine rack transmit empty wine slots via a Wifi connection to a server-side application that notifies users on their mobile device to reorder the wine for that slot. The mobile app enables users to do exactly that, in real-time. This means users will never forget to stay fully stocked and never have a "last bottle" again.
One of the key features of EndlessWine app is a Tasting Queue that allows users to populate a pre-shopping list of wines that they want to try. When users finish one bottle in the Tasting Queue, the next bottle in the queue gets re-ordered automatically.
"People have been drinking wine for more than 6,000 years. It's remarkable that we can still find a way to put a new spin on an ancient industry" adds McIlvaine, "we created EndlessWine out of our passion for technology and wine. It seemed pretty obvious to us. I mean… why isn't there a smart wine rack on the market?"
EndlessWine is made, programmed, and only available in the USA. It contains 5 refillable wine positions, is wifi enabled, and has a patent pending. The free wine re-ordering app will be available for both Apple and Android devices.
EndlessWine is now live and available to support on Indiegogo: https://igg.me/at/EndlessWine/13256475
###