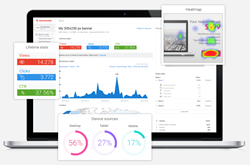 (PRWEB) March 24, 2016
What is Bannersnack?
Bannersnack is an online professional app dedicated to creating static and animated banners for marketers and designers. Launched in 2008, Bannersnack has reached 2 million users and over 2,000 banners created every day.
Bannersnack's newest feature - The first Heat Map dedicated to banner ads
After analyzing thousands of banners, Bannersnack has come to the conclusion that users lack statistical data to track banner efficiency and increase performance.
Which is why they created Bannersnack Analytics, the first feature dedicated to detailed banner ad analysis.
What is Bannersnack Analytics?
This feature was created for every designer, marketer and entrepreneur who wants to understand more about what makes their banner ad work, and how can they design it so that people will click on it.
It's a new feature that offers statistics and information on Clicks, Impressions and CTR.
This kind of information helps Bannersnack's community grow brands and sell more of their product or service and it also assists them in creating smarter banner ads. It's a perfect way to learn how a banner ad works and how to re-design it to increase efficiency.
There are 5 main components included in Bannersnack Analytics
Bannersnack Analytics has 5 main elements that help keep track on how a banner ad is doing and to find out statistics that can help improve it whether the user wants to redesign it or test another banner ad:
1. Stats - keeps track of metrics such as Impressions, Clicks and CTR of the banner ad
2. Location - shows a world map and the locations where the banner ad is getting more attention.
3. Devices - offers stats on the 3 devices people used to view and click on the banner ad: tablet, phone and desktop
4. Slide Stats - Many Bannersnack users are designing banner ads with multiple slides included. So this element offers exact statistics on which slide is performing better
5. Heat Map - shows where is "the hot spot" on your banner ad that gets the most attention. This is the first heat map designed for a banner ad.
Anyone who wants to use B.A. should create an account and should use the embed code.
Learn more here: http://www.bannersnack.com/analytics.html