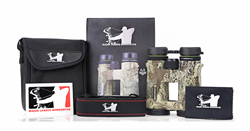 VANGUARD and Major League Bowhunter have a lot in common; passion, endurance, and a reputation for world-class performance. That is why VANGUARD is proud to partner with MLBH to offer the absolute best binocular to avid bowhunters and enthusiasts.
Whitmore Lake, MI (PRWEB) March 24, 2016
Vanguard, a global leader in photo-video accessories and sports optics, is excited to reveal to the world the new co-branded Major League Bowhunter, Realtree MAX-1© 10x42 binocular. Offering exceptional clarity and brilliant color reproduction, the MLBH binocular is cased in textured rubber armor and backed by Vanguard's Premium Lifetime Warranty. Every MLBH binocular features the Major League Bowhunter logo, and is masked in the recognizable - yet always discreet - Realtree MAX-1© camouflage pattern.
"We are very excited to partner up with Major League Bowhunter. Our fandom started long before their hunting expeditions turned them into television hosts, back when they were successful professional baseball players. We thoroughly enjoy their show, and are thrilled that they enjoy using our products," said Director of Global Marketing Joshua Pawlak.
Vanguard and Major League Bowhunter have a lot in common; passion, endurance, and a reputation for world-class performance. That is why Vanguard is proud to partner with Chipper Jones, Matt Duff, and Jeff Danker of Major League Bowhunter to offer its absolute best in sports optics to avid bow hunters and enthusiasts.
The MLBH binocular is a 10 powered binocular with a 42mm objective lens diameter, offering a large field of view and long eye-relief. The binocular features a lightweight, open-bridge body design, 3-stage twist eyecups and an adjustable diopter ring. All of Vanguard's optics are 100% waterproof and fogproof.
Along with each binocular comes a branded Major League Bowhunter neck strap and cleaning cloth, MLBH decal, as well as a protective soft carrying case. The binoculars will retail at $199.99 and will be available online at http://www.vanguardworld.us and in all Academy Sports retail locations.
The MLBH binocular continues Vanguard's rich tradition of providing supreme quality optics in a highly competitive industry. Through its thoughtful innovation and precise design, as well as its use of high quality materials, Vanguard successfully illustrates the simple fact that no shortcuts can be made when it comes to delivering excellent optics.
Vanguard has been committed for over 30 years to developing optics of superior design, performance and value. Confidence in our products and a commitment to deliver only the highest level of service led to the creation of the Vanguard Premium Lifetime Warranty. This consumer-friendly lifetime guarantee ensures that consumers can purchase Vanguard Optics without worry. If your Vanguard optics are ever broken or damaged, we will repair or replace them free of charge – no questions, no hassle.
About Major League Bowhunter
Hosts Jeff Danker, Matt Duff, and Chipper Jones take the viewer through an entire season of deer hunting successes and failures, delivering in a very unique way every aspect of their hunts. These avid outdoorsmen believe that there is always something that can be learned from every experience in the field, both good and bad! Their passion and success for harvesting big bucks was what formed a special friendship among them. It's through their eyes that the viewer will be entertained, but more importantly, educated as to what both Jeff, Matt and Chipper have learned through the years that has helped them become more successful bow hunters!
30 Years at Vanguard
Since 1986, Vanguard has been one of the global leaders in hunting and outdoor accessories, including binoculars, spotting scopes, shooting sticks, tripods and gun and bow cases. With first-of-their-kind features and capabilities, Vanguard's comprehensive product range meets the needs of a diverse range of all those who enjoy the outdoors, from the hobby birdwatcher to the avid big game hunter. With ISO 9001 and 14001-certified facilities and hundreds of design patents, Vanguard has earned a solid reputation that spans the world.