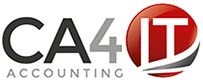 We are happy to announce that CA4IT has more online influence than every major accounting firm in Canada
Toronto, Ontario, Canada (PRWEB) March 29, 2016
Canadian accounting firm CA4IT is a small business making a big impact online, and just this week, they set a new milestone with the announcement that they surpassed over 21,000 Twitter followers, a first for the company. When compared to the larger accounting firms across the nation, CA4IT's social media influence demonstrates a truly effective strategy for social media engagement that has larger businesses taking notice.
"We are happy to announce that CA4IT has more online influence than every major accounting firm in Canada," says Vice President, Andrew Wall. "With a Klout score of 61 and our rapidly growing Twitter following, we believe that our success comes from our commitment to quality content that touches on topics important to our readers."
In fact, with only one exception, CA4IT has more Twitter followers than all the major names in business accounting, including KPMG Canada which trails behind with only around 16,500 followers. A search for additional comparison revealed the following statistics from Twitter:

@PwC_Canada_LLP--15.8K followers, Klout score of 57
@GrantThornton--9.3K followers, Klout score of 55
@EYCanada--8.6K followers, Klout score of 54
@BDO_Canada--3.3K followers, Klout score of 49
@CollinsBarrow 813 followers, Klout score of 49
Clearly, CA4IT is gaining recognition for their efforts, which translates into a larger audience. Wall attributes this rapid growth to his company's focus on genuine connections. Rather than a feed filled with advertising or "content for content's sake," CA4IT treats their social media efforts as an opportunity to build meaningful connections. He notes that they strive to share content that engages, educates, and enlightens, which based on their growth, is certainly hitting the mark.
In the "David Versus Goliath" atmosphere of small businesses in relation to larger corporations, CA4IT shows that many companies may need to rethink how they rely on brand recognition. CA4IT is poised for its most successful year yet, and stands as a perfect example of how effective social media presence acts as a building block for growth.
CA4IT has 30 years of experience supporting IT professionals, independent professionals and project managers. The member firms provide full-service accounting to companies across Canada. CA4IT is the only association of accounting firm at NACCB. CA4IT is proud to have one of the very few ISO registered accounting firms as a member. Having serviced over 10,000 clients, CA4IT is well versed in customer service and offers a policy of complete satisfaction within the rules of professional accounting standards.