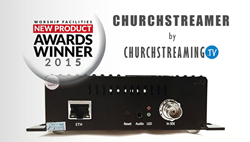 Award Winning Streaming Box
(PRWEB) March 23, 2016
Churchstreaming.tv, the leading streaming video service provider for churches, announced the release of a new revolutionary streaming box for churches called the ChurchStreamer. This allows churches to easily broadcast to the Churchstreaming.tv platform in both HD and mobile-ready video.
The ChurchStreamer was awarded the crown of "Best Overall Media and Communication" product at WFX 2015, the industry's leading Conference and Expo. The ChurchStreamer is offered in several different variations including HDMI, Composite, SDI, and HDSDI.
"The ChurchStreamer was design to fill two gaps in the market that churches ask for. One is having an affordable device that can deliver multiple bitrate streams from any type of input and the other is for churches who want an affordable automated solution. The ChurchStreamer can be set in automatic mode where it starts up on schedule without having to have a staff member or volunteer present," said Michael Smith, Director of Marketing , Churchstreaming.tv.
In the past, high quality productions were only feasible for large churches that could afford expensive streaming equipment. There are many products that have hit the market in the past few years to service churches looking for a more affordable solution. The problem with many of those products is that they lack the features of some of the more expensive alternatives. The ChurchStreamer breaks that trend by packing all the high end features into an affordable product.
The availability of affordable solutions like the ChurchStreamer have come at a great time for churches. Because of the influence of the internet, more and more people are interacting with their church online. Staying at the forefront of this technology not only helps churches reach new people but also allows them to stay in touch with members who are no longer able to physically attend but want to stay involved in the church.
Rob Desilets, lead developer and partner at Churchstreaming.tv, explains, "We are finding that there are more and more small churches that want to live stream their services but don't have the financial resources or staff to run a big streaming operation. So, we developed this product to solve that problem. With this device and any type of camera or video system, a church can be streaming with a very small financial investment and very basic technical knowledge. Of course, this product can be used with high end gear just fine also. We have found that many large churches who already have an advanced video setup also love the fact that they can just plug their output into this device and take care of their streaming part of the equation without having to adjust any of their equipment."