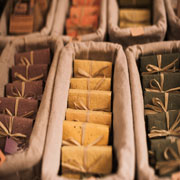 Manufacturers, distributors and retailers of craft-related items stand to gain more loyal customers by observing National Craft Month through creatively designed custom product labels and stickers this month
Denver, CO (PRWEB) March 24, 2016
Use Custom Craft Product Labels in March
March is National Craft Month, a time for companies specializing in items related to personal and professional crafts to boost awareness regarding their products and sales. To ensure the observance is recognized widely among craft lovers and those who are interested in starting a new and fun hobby, businesses that engage in these industries should consider leveraging specialized labels for crafts that defy normal conventions.
Craft product labels will often be relatively bare-bones, meaning they contain the general information about the products within the packaging but do not add pizzazz to the aesthetic value of the branded items. With custom craft labels, businesses can boost the shelf appeal of their offerings while aligning their brand names with major events, such as National Craft Month.
Stickers for Craft Products
Custom stickers and labels for craft products should be informative and eye-catching, bringing the shoppers closer to the items and giving them a good reason to choose the product over others on the shelves. The content aspects of these branded materials can be simple enough, but the design should be unique to both the business and National Craft Month, as this will truly get the point across.
"Manufacturers, distributors and retailers of craft-related items stand to gain more loyal customers by observing National Craft Month through creatively designed custom product labels and stickers this month," said AnneMarie Campbell, Lightning Labels Director of Business Development. "These firms should always work hard to ensure their messaging is aligned with the preferences of their specific target prospects, rather than simply blanketing all consumers, and can do so with specialized labels."
Time to Move
March is quickly passing by, but companies involved in the craft industry still have time to make their mark on the observance of National Craft Month. With the right commitment to researching and developing the best possible custom labels and stickers for products involved, this can be a good time to boost revenue going into the rest of the year for craft businesses.
About Lightning Labels:
Lightning Labels uses state-of-the-art printing technology to provide affordable, full-color custom labels and custom stickers of all shapes and sizes. From small orders for individuals to the bulk needs of big businesses, Lightning Labels is equipped to handle and fulfill custom label and sticker projects of all types. Best of all, like the name implies, Lightning Labels provides a quick turnaround for every customer's labeling needs. Uses for Lightning Labels' custom product labels and custom stickers include food packaging and organic food labels, wine and beverage labels, bath and body labels, and nutraceutical products, such as vitamins, essentials oils, and herbal remedies, as well as event stickers, adhesive window stickers and more. Lightning Labels strongly supports the development of environmentally friendly printing materials and carries EarthFirst PLA, a new kind of green label material made from corn instead of petroleum. While operating as a high-tech printer, Lightning Labels prides itself on its personalized customer service. Lightning Labels provides one stop shopping for all of your custom label needs. For more information and to place orders online, visit http://www.lightninglabels.com. For the latest in packaging news and labeling promotional offers, find Lightning Labels on Twitter (@LightningLabels), Facebook, Pinterest, Google+ and LinkedIn.