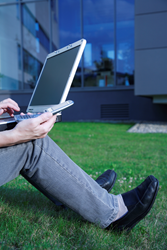 Smartphones and tablets are legitimate business tools. They can help your employees work more productively both in the office and in the field.
Fairfield, NJ (PRWEB) March 29, 2016
Quikteks, a New Jersey IT support company, is urging small business owners to evaluate mobile office solutions this spring. According to Andrew Rich, owner and CEO of Quikteks, smartphones are no longer a novelty.
"Smartphones and tablets are legitimate business tools," he said. "They can help your employees work more productively both in the office and in the field. However, like any tool of your trade, choosing the right mobile office solution requires careful consideration and end-user training."
Among the myriad considerations facing small business owners are:

Choosing a mobile platform -- Will you expect employees to use their own devices or will you be supplying them? Which operating system (iOS, Android, Blackberry, Windows Phone, etc.) do you prefer?
Choosing hardware and peripherals -- Just as an office network may be equipped with printers, scanners, and other peripheral devices, many businesses need peripheral devices as part of their mobile office solutions. Examples of mobile peripheral devices commonly used by small businesses include: barcode readers, credit card swipers, microphones, receipt printers, and various measuring tools.
Choosing suitable mobile office apps -- What functions are needed beyond the basics of email and instant messaging? Common mobile office apps include: invoicing and bookkeeping, expense management, service order management, document signing and management, credit card processing, Microsoft Office, and online collaboration tools. Businesses may also benefit from industry-specific apps, such as property appraisal, point-of-sale, or healthcare apps.
Ensuring mobile security and compliance -- Finally, Rich explained that any mobile office solution should be designed with the best practices for mobile office security and to ensure regulatory compliance. "Even if your business is not subject to a specific regulation such as HIPAA, we all have a responsibility to protect both business and customer information," he said. "Quikteks helps businesses cover all of their bases whether their employees are tethered to a desktop PC, working remotely from home, or accessing the network via mobile devices out in the field."
Quikteks is urging businesses considering mobile office solutions to take action sooner, rather than later. "In today's competitive environment, small businesses need every advantage," Rich explained. "By putting the right tools into your employees' hands, small business teams are better able to interact one-on-one with customers -- all within the prescribed limits of your mobile office network security policies."
About Quikteks
Based in Fairfield, New Jersey, Quikteks delivers cutting-edge, reliable and cost-effective business technology solutions to small and medium-sized businesses in the Tri-State area. The company's computer solutions include 24-hour tech support, help desk support, computer support, consulting, and storing valuable and confidential data in a secure cloud.
For More Information:
Email: info(at)quikteks(dot)com
Phone: (973) 882-4644