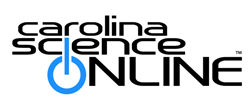 "Every single student is engaged and they don't think about the fact that they're learning." Denice Esterly, Science Teacher
Burlington, North Carolina (PRWEB) March 29, 2016
Burlington, North Carolina; Carolina Biological Supply, an 86-year old enduring provider of hands on science teaching products to K12 schools and colleges has partnered with Cogent Education, an Athens, Georgia innovative software company, to offer interactive science learning resources to middle, high school, and college educators. Today, many teachers, students, and schools, are seeking digital tools to enhance hands-on science learning, and in response to this emerging demand, Carolina sought a best in class partner to complement its enduring product line. Long loved by science teachers, Carolina's biology products can now be enhanced with Cogent Education's innovative Case-Based learning programs.
Cogent Education's Case-Based learning software called "Interactive Cases" use modern video game technologies to create captivating real-world scenarios that make science meaningful and engage students in critical thinking. They create awareness of many STEM career options by placing students in the role of a scientist, in which they must apply scientific practices to solve a real world problem. Through these virtual environments, students safely explore and interact with the molecular world of ions, molecules and cells. Abstract concepts, often difficult for teachers to teach, and challenging for students to comprehend, become visible to students, driving deeper understanding to cement learning.
"Our approach was simple," says Cogent Education Co-Founder, Scientist & CEO, Dr. Tom Robertson, "We asked biology teachers to tell us where it hurts in their curricula. We then took these pain points – concepts that students perennially struggle to master, and inserted these concepts in the context of a real world problem. Students assume a STEM career role of a professional scientist tasked with solving the problem. In the Osmosis Interactive Case, students, in the role of veterinarian, must help a calf named Clark that is having seizures. Students fly into Clark's brain, learn about osmosis, then move step-wise through the scientific method to collect, analyze and interpret data, form and test a hypothesis and then communicate their findings. As they progress, their performance on critical thinking tasks are sent to their teacher in real-time. Teachers see a heat map that instantly pinpoints areas of need for each student, allowing teachers to immediately help those students that may be struggling with a particular concept or skill. Researchers in the College of Education at The University of Georgia concluded that the effects of adding just 3 of our Interactive Cases on student learning was 'staggering' – I can't wait to see the results when all 10 cases are added!"
The Interactive Cases were developed at Cogent Education with grants awarded by the National Institutes of Health and the National Science Foundation. Creating them requires a wide-range of specialties that includes teachers, scientists, digital artists and computer programmers. The team works together to make storyboards for each new case and the artists make the 2D and 3D models and animations, while the programmers complete the coding needed for the user experience. The teachers, scientists and researchers identify the key learning objectives for the case, develop assessment items, align the items to state and national science standards and create the scoring rubrics for the heat map. After production, teachers and education researchers evaluate the cases in classes to make sure they have a measurable impact on student learning, achievement, and attitude.
This effort has resulted in the release of a full suite of Biology Interactive Cases, now offered through Carolina Biological, which teachers can implement as a supplement to support introductory and advanced Biology classes. "The Interactive Cases are teaching the skills to take content knowledge and apply it to an actual real world problem and that's what I need. Every single student is engaged and they don't think about the fact that they're learning, "says Denice Esterly, Science Teacher. "And seeing the heat map helps me immediately apply my data to my classroom."
"We're excited about this new partnership," says Bruce Wilcox, Vice President for Carolina Biological. "Working with Cogent Education allows Carolina to offer teachers digital tools that enhance existing traditional science teaching materials. Using the Interactive Cases allows students to experiment virtually before they enter a real lab. It's an ideal blend of the strengths of both our companies which will benefit the teacher and student alike." The partnership with Cogent Education extends Carolina's reach to those teachers and students seeking technology enhanced teaching and learning tools.
Carolina Biological will be hosting a hands on workshop sharing Cogent Education's Interactive Cases with their customers at NSTA's National Convention in Nashville, TN on Saturday, April 2nd from 10:00am-11:30am in Room 205B-Y. Schools who are interested in more information about the Interactive Cases or would like to purchase can call 800-334-5551 or visit http://www.carolina.com/cogenteducation
About Cogent Education
Cogent Education was founded in 2010 by seven UGA faculty and staff members who shared a vision of improving science education and inspiring young people to pursue careers in science, technology, engineering and math (known as STEM fields). Through partnerships with dozens of school districts, Cogent Education has developed skills-based learning programs, rather than programs that promote the rote memorization of facts. They are committed to effecting a meaningful change in education, as life is not a multiple-choice question, and believe that if we want our students to become successful scientists, we should give them the opportunity to act like scientists in the classroom. Parties interested in learning more about Cogent Education can visit the Cogent Education website located at http://www.cogenteducation.com.
About Carolina Biological Supply Company
From its beginnings in 1927, Carolina Biological Supply Company has grown to become a leading supplier of science teaching materials. Today, from its headquarters in Burlington, North Carolina, Carolina serves customers worldwide, including teachers, professors, home-school educators, and professionals in health and science-related fields. Please visit our website, http://www.carolina.com, to learn more about our science and related products and services. For more information on Carolina Biological, visit our website at http://www.carolina.com.
National Institutes of Health acknowledgement and disclaimer: Research reported in this press release was supported by The National Institute of Mental Health of the National Institutes of Health under award number R44MH096675. The content is solely the responsibility of the authors and does not necessarily represent the official views of the National Institutes of Health.
National Science Foundation acknowledgement and disclaimer: This material is based upon work supported by the National Science Foundation under Grant No. 1430187. Any opinions, findings, and conclusions or recommendations expressed in this material are those of the author(s) and do not necessarily reflect the views of the National Science Foundation.
For media inquiries please contact Bruce Wilcox, bruce.wilcox(at)carolina(dot)com or Tyler Gerhart Wood, at tyler(at)cogenteducation(dot)com