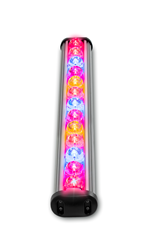 Santa Rosa, CA (PRWEB) March 25, 2016
Kind LED Grow Lights have been leading the way in the field of LED grow light systems over the last several years. Most recently, the Kind LED Bar lights have been released and are currently available to order through a local hydroponic store.
Kind LED bar lights are designed to be used in the following applications: All indoor and greenhouse supplemental lighting situations, all primary lighting situations for average light use plants such as microgreens, lettuce, or basil and all primary lighting situations for all types of seedlings or clones.
Because of the low profile design and IP65 rating, Kind LED Bar Lights can be used in an infinite number of ways including vertical setups and in between rows of plants for lighting areas of your grow that before, went unlit. The Kind LED bar lights are split into two main spectrum categories, Vegetative and Flowering. Leave it to Kind LED Grow Lights to again, put out a stellar product and continue to make advancements in the LED grow light industry with the release of the Kind LED bar lights.
For more information about the new KIND LED Bar Lights visit http://www.kindledgrowlights.com or contact your KIND LED Grow light representative.