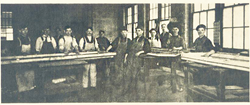 "We have succeeded and thrived all these years simply because our many, many clients trust that we will do what we say we'll do and our many hundreds of employees have created a culture of continuous improvement while embracing change every single day. "
Oceanside, CA (PRWEB) March 24, 2016
Federal Heath Sign today announced that it is celebrating its 115-year history in the sign industry. Starting from its modest beginnings in Chicago as Federal Electric Company on March 25, 1901, Federal Heath Sign Company has emerged over the years as one of the most recognized and respected names in the signs and visual communications industry.
The company's origins date back to the founding fathers' initial idea of using electric signs and incandescent lighting for advertising messages. Throughout the following decades, company growth mirrored the nation's growth, expanding and responding to the needs of business and commerce. Several variations were made to the company name as a result of mergers and acquisitions, which brought an ever-expanding list of capabilities, talent and expertise to the company.
From signs for the first drive through service station in 1905 manufactured by Federal Electric to neon signs in the 1920s, and electronic freeway signs in the 1960s and Las Vegas spectaculars in the 1980s and 90s, to technologically advanced digital printing and imaging today, the company has consistently been at the forefront of innovation and customer satisfaction.
The company's President and Chief Executive Officer Kevin Stotmeister stated: "Although our current legal entity dates back to the 2003 combining of Federal Sign and Heath & Company, we do trace our routes back many paths to March 25th of 1901. We have succeeded and thrived all these years simply because our many, many clients trust that we will do what we say we'll do and our many hundreds of employees have created a culture of continuous improvement while embracing change every single day. "
With a history that is unparalleled in the industry, Federal Heath continues the legacy started by its forefathers 115 years ago today, with a strong, unwavering focus on providing customers the highest value, quality, speed and flexibility with the comprehensive products and services offered.
About Federal Heath
Federal Heath Sign Company, a leader in the visual communications industry, offers innovative, comprehensive and consistent solutions using Lean manufacturing and skilled account management teams to exceed customer requirements and satisfaction. From nationwide conversions and custom signs to maintenance programs, construction re-imaging, high-impact digital printing and on-premise engagement, Federal Heath is currently the only signage provider that provides its global customers complete turnkey solutions. Federal Heath has more than twenty offices nationwide, including five state-of-the-art manufacturing facilities. For more information about Federal Heath Sign Company, please visit us at http://www.federalheath.com
# # # #