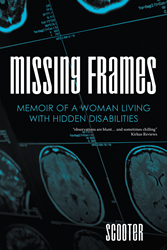 I want to bring awareness to the subject of hidden disabilities...
Rancho Cordova, CA (PRWEB) March 28, 2016
A single mother in California woke up one day to unfamiliar surroundings, people she didn't know and no recollection of falling. Scooter was on the ground, with people talking all around her, drowning in her own confusion.
In her book, "Missing Frames," Scooter recollects her life, leading up to her second traumatic brain injury (TBI). She also shares the aftermath of the injury, how she found her way back from amnesia, and how she continues to rebuild her life, with hope and positivity, as a woman living with hidden disabilities.
"My story is about the effects of trauma and the magnitude and scope of it in my life," Scooter said. "I want to bring awareness to the subject of hidden disabilities and give others hope for a new, well-balanced life after injury."
Scooter battles physical discomfort and on-going psychological challenges, involving all aspects of perception, thinking, reasoning and memory. She suffered her first TBI from a car accident in 1976 and her second from a fall in 2009.
"Trauma nightmarishly exists here in America," Scooter said, "and is probably more prevalent than we care to admit. Rather than deal with the effects, society often rejects us. My hope is that, by sharing my story, others can empathize with people suffering from these disabilities and others will cease to suffer alone."
For more information, visit: missingframesblog.wordpress.com.
Missing Frames
By: Scooter
ISBN: 978-1-5049-2656-0
Available in softcover, hardcover, e-book
Available on Amazon, Barnes & Noble and AuthorHouse
About the author
Scooter is an invisibly disabled woman who suffered two traumatic brain injuries – one in 1976 and the other in 2009. Today she continues to deliberately work toward achieving a healthy, well-balanced quality of life. This is her first book.
For review copies or interview requests, contact:
Lindsey Gobel
317.435.2116
lgobel(at)bohlsengroup(dot)com