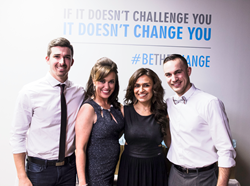 Its spa-like, all-inclusive concierge model is the first of its kind in the Charlotte area, making Flex5 the local leader in one the fastest growing wellness trends for 2016.
Charlotte, NC (PRWEB) March 29, 2016
It doesn't take long for the #BeTheChange vibe to hit you upon walking into Flex5 Premium Fitness and Wellness Center at the Charlotte National Building on Fourth Street.
The sleek and welcoming studio boasts 5,500 square feet of impeccably clean space for one-on-one wellness coaching, group fitness, yoga, metabolic training, boot camp and corporate wellness programs. Its spa-like, all-inclusive concierge model is the first of its kind in the Charlotte area, making Flex5 the local leader in one the fastest growing wellness trends for 2016.
"We are invested in our clients' well-being and promise to go the extra mile," says Flex5 co-owner Darla Lilleberg, who does health coaching and personal training at the gym. "We know people's lives are busy, and we care about them as individuals. We're thrilled to have the chance to be part of their transformations."
The Flex5 Training Method focuses on five specific components: Strength, Conditioning, Flexibility, Nutrition and Spirituality.
"These five pillars play a different – yet crucial – role in helping you attain your desired fitness and wellness goals, leading to a happier, more balanced life," says co-owner Petro Martynyuk.
The studio's exceptional client service doesn't stop there. It offers client pick-up and drop-off within uptown Charlotte, dry cleaning services, grocery runs, and the convenience of a downloadable Flex5 App allowing clients to view, book and pay for classes, appointments or workshops whenever they like. Flex5 also subsidizes parking.
"Now that we've launched, our team of certified fitness instructors and health coaches is actively developing life-changing wellness programs for clients in the city," says Martynyuk. "We create holistic, science-based fitness and nutrition plans specifically designed to meet each person's goals. It's concierge fitness at its finest."
Flex5 offers several types of programming tailored to each clients' needs under their signature TLC and Class Pass packages.
Amenities at the studio include:

Easily accessible uptown Charlotte location
State-of-the-art yoga and fitness studios for one-on-one coaching and small group classes
Spa center for therapeutic massages, Reiki healing, Ayurveda coaching and nutrition guidance
Concierge car service, dry cleaning/laundry & groceries pick up for uptown clients
Loyalty rewards program allowing clients to earn a free trip to one of Flex5 signature Costa Rica wellness retreats
Convenient parking locations
"We educate each client, creating awareness one step at a time," says Lilleberg. "It gives clients the opportunity to adjust to changes, both emotional and physical, on their time table. We provide the tools and freedom for them to pursue a healthier lifestyle – one full of energy and passion."
Both of the studio's founders bring a wealth of fitness knowledge and life experience to the table. Part of Lilleberg's passion for wellness comes from the years it took her to bring her autoimmune disease under control. Overcoming Hashimoto's thyroiditis and investing in extensive training have made her a deep source of insight and motivation. She is a certified personal trainer through the American College of Sports Medicine (ACSM) and a holistic health coach with training from the Institute for Integrative Nutrition (IIN) and through the American Association of Drugless Practitioners (AADP). Lilleberg actively advocates for others with autoimmune disorders.
Martynyuk also is an ACSM-certified personal trainer and IIN AADP holistic health coach, as well as a TRX® Suspension Training-certified instructor in addition to holding CFA and FRM designations in finance. Born in Ukraine, he's come a long way since his arrival as a 16-year-old with limited English skills and an uphill battle to graduate from high school and college. And yet, his inner drive, hard work ethic and vision of making a difference helped him overcome these obstacles and achieve success academically, in the field of fitness, and as a financier in New York, London and Charlotte.
For more information, visit the fitness studio's website at flex5clt.com or email questions to info(at)flex5clt(dot)com.