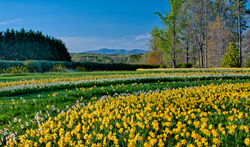 Working tirelessly near Ball Ground, Georgia, he transformed 220 acres of wooded hills into Gibbs Gardens, a world class marriage of beautiful plants and design
(PRWEB) March 24, 2016
Gibbs Gardens, less than an hour north of Atlanta, has been recognized as one of only five gardens in "The South's Most Famous Gardens" category in Southern Living's 50th anniversary edition, Best Southern Gardens. In "Light Up the Land," which highlights the Japanese maples, Steve Bender, writer/editor for Southern Living, captures the spirit and passion of Jim Gibbs, creator and designer of Gibbs Gardens. "Working tirelessly near Ball Ground, Georgia, he transformed 220 acres of wooded hills into Gibbs Gardens, a world class marriage of beautiful plants and design." Jim's "desire to showcase nature's beauty on a magnificent scale" is evident throughout the Gardens. In reality, he spent 32 years working to bring his vision to fruition before opening Gibbs Gardens to the public in 2012.
Facts about Gibbs Gardens
In addition to 1000's of Japanese maples, visitors to Gibbs Gardens enjoy the diversity and breadth of its 16 artistically designed garden venues, including four feature gardens:

Daffodil Gardens, blooming from March to mid-April, display 20 million blooms of over 100 varieties that cover 50 hillside acres under a canopy of flowering dogwoods and cherry blossoms.
Manor House Gardens, located on the highest ridge in northeast Cherokee County, boast seven flowering terraces that flow seamlessly down 150 feet of elevation to the Valley Gardens.
Monet Waterlily Gardens feature 140 varieties of hardy and tropical waterlilies and a replica of the bridge in Claude Monet's Garden at Giverny.
A 40-acre Japanese Garden, the largest in the nation, includes seven ponds, pagodas and hand-carved lanterns.
In addition, azaleas, ferns, rhododendrons, roses, hydrangeas, crape myrtles, day-lilies and wildflowers provide an ever- changing tableau of color, fragrance and texture.
Go to http://www.gibbsgardens.com/visit/whats-in-bloom to view our bloom calendar.
Gibbs Gardens is open from 9:00 a.m. to 5:00 p.m., Tuesday through Sunday, from March to mid-June and Wednesday through Sunday from mid-June to mid-December. The entry gate closes at 4:00 p.m.
Gibbs Gardens is located at 1987 Gibbs Drive, Ball Ground, GA 30107.
Please call 770-893-1881 for further information.