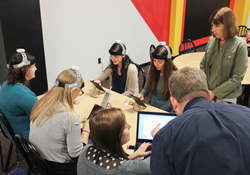 This collaboration could not be a better fit," said University of Maryland President Wallace D. Loh. "The project enhances our students' education while serving active military families and retirees who have served the nation without reservation.
College Park, MD (PRWEB) March 24, 2016
A new, multidisciplinary educational partnership between the University of Maryland and Walter Reed National Military Medical Center (WRNMMC) will help graduate students participate in research projects aimed at treating military personnel suffering from a broad range of ailments.
Wounded warriors who will benefit from participation in the program will be treated for an array of medical conditions, including:

Traumatic Brain Injury resulting from blast injury
Hearing loss resulting from blasts and noise exposure
Balance (vestibular) problems resulting from head injury
Swallowing disorders following brain injury and penetrating wounds
Neuromuscular skeletal injuries, including amputation
Post-Traumatic Stress Disorder and sleep deprivation
The program will afford graduate students access to: state-of-the-art research facilities; clinical populations made up of active-duty Service Men and Women, their families, and military retirees; and world-class investigators whose research focuses on a broad range of issues pertaining to prevention, diagnosis and rehabilitation. While the opportunity is open to qualified graduate students of any discipline, the research programs will be of particular relevance to graduate students in the Department of Hearing and Speech Sciences (HESP), the School of Public Health, the Neuroscience and Cognitive Science Program, and the A. James Clark College of Engineering. These research opportunities will give UMD graduate students the tools and experience necessary to develop creative solutions to some of the more intractable health issues facing military personnel.
"This educational partnership agreement vastly expands opportunities for research training of our graduate students, while at the same time providing new streams of financial support for students we wish to recruit to our graduate programs. The partnership also will enable UMD to attract graduate students with more specific interests in studying health-related issues faced by wounded warriors," said Professor Sandra Gordon-Salant, Director of HESP's Doctoral Program in Clinical Audiology.
Among the partnership's key highlights with regard to speech and hearing disorders:

Participating graduate students will gain access to unique clinical populations for study, such as military personnel with acquired traumatic brain injury, noise-induced hearing loss and tinnitus, swallowing disorders, and severe-to-profound hearing loss due to blast exposure.
WRNMMC investigators will benefit from the opportunity to collaborate with UMD faculty and graduate students; these multiparty research projects have the potential to enrich the possibilities for innovation in understanding communication processes in disordered populations and formulating new technologies for amelioration.
"The Educational Partnership Agreement between Walter Reed Bethesda and the University of Maryland will open the doors for graduate students to participate in, and design unique translational research studies addressing the physical, behavioral, and social needs of the men and women who have so bravely served our nation. We see this as a huge win for both institutions: for Walter Reed Bethesda, the Education Partnership Agreement will increase the potential to attract the best and brightest graduate students in the nation to help solve some of the most perplexing problems facing our injured warriors; for the University of Maryland, this agreement will afford new opportunities for faculty and students alike to take their ideas from the laboratory and translate them into clinical practice," said Dr. Ken W. Grant, Deputy Director of the National Military Audiology and Speech-Pathology Center, and the Chief of the Scientific and Clinical Studies Section.
"This collaboration could not be a better fit," said University of Maryland President Wallace D. Loh. "The project enhances our students' education while serving active military families and retirees who have served the nation without reservation."
The partnership expands upon UMD's strong relationship with WRNMMC. Current collaborations have already tremendously benefited wounded warriors and advanced education and research in the field of hearing and speech sciences. Past and current projects include:

Research on the benefits of cochlear implants for individuals with single-sided deafness;
Research on speech recognition performance in real-world noise environments to simulate how well military personnel communicate in the kinetic environment that is the battlefield;
The development of new measures of working memory and speed of processing that tap into the specific communication problems of warriors with closed-head injuries; and
Research on new fluid materials that can be used in a protective vest to guard against sudden and violent movements of the head.
About the University of Maryland
The University of Maryland is the state's flagship university and one of the nation's preeminent public research universities. A global leader in research, entrepreneurship and innovation, the university is home to more than 37,000 students, 9,000 faculty and staff, and 250 academic programs. Its faculty includes three Nobel laureates, three Pulitzer Prize winners, 47 members of the national academies and scores of Fulbright scholars. The institution has a $1.8 billion operating budget, secures $500 million annually in external research funding and recently completed a $1 billion fundraising campaign. For more information about the University of Maryland, visit http://www.umd.edu.
About WRNMMC
Walter Reed National Military Medical Center, the world's largest, premier, integrated military medical center, where the nation heals our heroes, strives to provide extraordinary experiences for patients, families, and staff while driving tomorrow's healthcare advances through education, innovation and research. For more information, visit http://www.wrnmmc.capmed.mil.