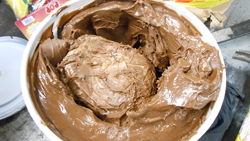 Smugglers are constantly trying to bring in dangerous and illegal narcotics
(PRWEB) March 25, 2016
In the last few weeks, U.S. Customs and Border Protection (CBP) Officers in Cincinnati have made multiple seizures of methamphetamines, cocaine, and heroin, thereby preventing drug smuggling via unique concealment methods.
Recently, at the Cincinnati express consignment facility, a CBP narcotics detector dog alerted to a crated shipment containing a saddle. When CBP Officers examined the shipment they noted that there were no narcotics in the saddle, but when officers examined the crate itself, they discovered methamphetamine powder concealed inside the wooden slats. The saddle was mailed from Mexico and destined for delivery near Houston, Texas.
In other recent shipments from Mexico, Cincinnati CBP Officers have found methamphetamines hidden in ceramic statues, tortilla presses, and toy Ferris wheels. They have also discovered liquid meth and liquid cocaine in traditional drinks and drink additives, like horchata and jarabe syrup.
Another notable narcotics interception came from a package manifested as "candy." The package, which contained a tub of chocolate icing, showed some irregularities during an x-ray examination. After conducting a physical inspection, CBP Officers determined that smugglers had placed a sealed bag of approximately two and a half pounds of heroin in the chocolate.
"Smugglers are constantly trying to bring in dangerous and illegal narcotics, but our skilled officers use their extensive training and expertise to recognize and identify unusual concealments in order to protect the American public," said Cincinnati Port Director Richard Gillespie.
Follow-up investigations are being conducted by U.S. Immigration and Customs Enforcement's (ICE) Homeland Security Investigations (HSI).
CBP conducts operations at ports of entry throughout the United States, and regularly screens arriving international passengers and cargo for narcotics, weapons, and other restricted or prohibited products. CBP strives to serve as the premier law enforcement agency enhancing the Nation's safety, security, and prosperity through collaboration, innovation, and integration.